JTEKT Corporation is one of the Toyota Group companies that was created as a result of a merger between Koyo Seiko and Toyoda Machine Works. They are a major supplier of steering systems in the automotive sector, but also a manufacturer of bearings and machine tools for a variety of sectors including steel, railway, aerospace, construction, machinery, and others.
Company: JTEKT Corporation
Establishment: 2006
Location: Aichi Prefecture
Main Business: manufacturing of steering systems, bearings, machine tools and mechatronics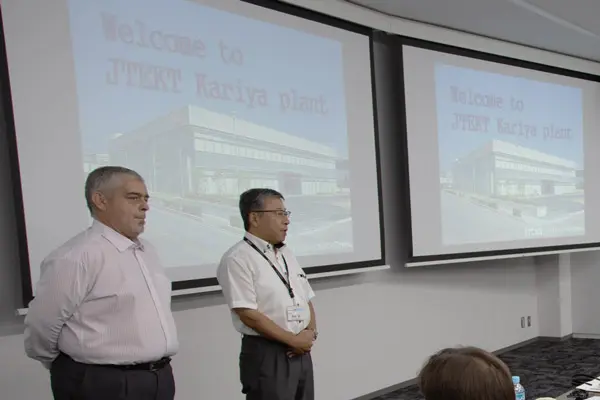 JTEKT Corporation – Lean Characteristics
TPS, Kaizen, Smart Factory, IoE
JTEKT is a global manufacturing company that has 12 factories in Japan and over 40 production bases overseas. As a vital member of the Toyota Group, JTEKT thoroughly applies the Toyota Production System. However, the company is led by a set of guiding values called "JTEKT Way" and members of the JTEKT Group share a unified sense of the JTEKT values worldwide, which are made up of five key pillars summarized as: 1) customer first, 2) continuous kaizen, 3) aspiration for innovation, 4) teamwork and self-discipline and 5) ownership.
The company has been promoting a smart factory concept and recently been making a concerted effort to combine lean thinking with cutting-edge digital solutions through the introduction of IoE (Internet of Everything) into their operations. By connecting machinery and equipment to people and services, and processing the big data collected to be visible and actionable to people for analysis, weak points in the manufacturing processes can be better detected which were previously not always identifiable and quantifiable. As a result, more accurate decisions can be made to improve operations, and manufacturers are able to achieve next level efficiency, functionality, reliability and productivity.
The Shinka Management Lean Japan Tour is a professional development program run several times annually. The program includes a mix of lean and kaizen seminars, hands-on lean training and visits to several benchmark lean companies. For further information and program dates, see the lean tour overview page.
Interested in joining us in Japan? For additional information prior to registration please fill in the form provided or contact us.