Lean Manufacturing Consultants:
Japanese Know-How – Global Competitiveness
Shinka Management is a global company of lean manufacturing consultants which specializes in the transfer of Japanese management know-how. Our lean consultants provide practical solutions for developing your people and improving your business through continuous improvement, resulting in increased productivity and competitiveness.

Looking for support in implementing and sustaining a lean culture within your organization? Talk to us about how our lean consultants can help with your unique needs. Read more +
Diagnosis – Develop your lean deployment roadmap
Implement – Practical support for your lean journey
Toyota Sensei – The ultimate lean consultants
Our training services cover the most powerful lean methodologies developed by Japanese industry, and are designed to develop your people with the skills they need to excel. Read more +
Lean Training – Japanese production management
Scheduled Courses – View up-coming training dates
Kaizen Training Programs – See full range of topics

New to the concept of lean, or searching for that next level of achievement? Our lean Japan tours will help you discover how lean can best be implemented within your business. Read more +
Exclusive Access – Benchmark Japanese companies
Training – Lean seminars and hands-on experiences
Tour Leadership – Led by expert lean consultants
New to the concept of lean, or searching for that next level of achievement? Our lean consultants will help you discover how lean can best be implemented within your business.
Contact us for a tailored solution
Speak to our lean consultants about customized support for your team's lean journey.
Lean Manufacturing Consultants – Kaizen Method Experts

Shinka Management specializes in the transfer of Japanese management know-how to global industry. Our lean consultants provide access to Japan's rich experience and knowledge in business process management and continuous improvement practices.
Our lean consultants are here to help you increase your productivity and competitiveness, providing lean consulting, lean training and our popular Lean Japan Tours. We integrate into your organization to achieve tangible and measurable solutions that strengthen your people and improve your bottom line.
Our lean consulting team supports industry-leading companies in over 60 countries. Our lean management consultants include veteran Toyota factory managers from Japan, and senior lean consultants that have developed their expertise in lean manufacturing directly through Japanese industry. With a thorough understanding of the language and culture in which lean was originally developed, and experience in applying lean practices to various corporate and national cultures around the world, our consultants are well placed to provide the right support for your team.
Our focus is on providing practical, implementable solutions for improving your business. Contact us to discuss how Shinka Management can help you and your team drive cultural change and achieve sustainable improvements across your organization.
Safety
In implementing lean principles with our clients, safety is top priority for our lean consultants. Only once safety is maintained can a culture of continuous improvement flourish.
Quality
By building quality into the process and removing reliance on inspection, our clients move towards zero defect production, removing costly rework and damage to reputation.
Productivity
Waste elimination, process standardization and raising employee awareness, enable our clients to dramatically improve operational efficiency.
Staff Morale
Through removing unnecessary work, roadblocks and frustrations, staff are freed up to achieve a greater value-add for the customer. This ultimately leads to greater employee morale and retention.
Customer Satisfaction
Value, as perceived by the customer, is a key driver for all lean activities. Through reducing lead times and guaranteeing quality, customer satisfaction is increased, along with your reputation.
Profit
Our clients substantially improve profitability as they move towards an injury-free workplace with low staff turnover, higher operational productivity, zero defects and increased market share.
Lean Japan Tours – Immerse Yourself in the Origins of Kaizen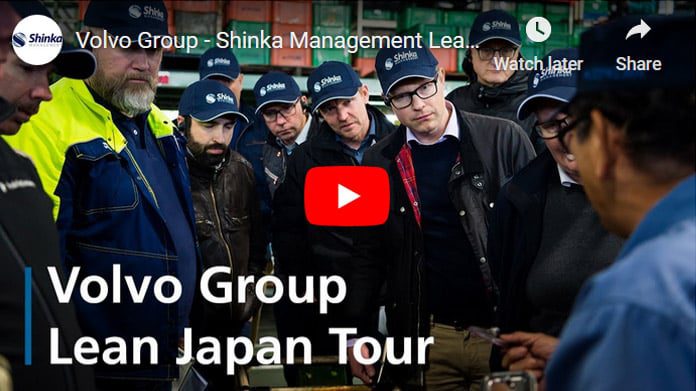 New to the concept of lean, or searching for that next level of achievement? Our lean tours will help you discover how to best implement lean within your business.
The tour duration is 7 days and includes:
Company Tours – a range of industries with discussion with senior management.
Training – TPS, TPM, Kanban, VM, Just-in-time, 5S, Jidoka, SMED, Poka-yoke, TQM
Seminars – learn to implement, lead and sustain a lean culture in your organization
Culture – immerse yourself in a mix of cultural and sightseeing experiences
Small Groups – quality, hands on study missions with like-minded people
Led by Expert Lean Consultants – 13-year track record delivering lean tours
LEARN MORE
Tour Dates – Book early as places are limited.
Training – Lean Management Master Classes, Webinars, Japanese Business Etiquette
Time and motion study software – OTRS10
Shinka Management provides sales and support for OTRS, a video-based time and motion study software designed to help you analyze and document standard work processes, and achieve productivity improvement within your operations. The software leverages Japanese industrial engineering and lean manufacturing principles to help your company achieve world-class performance.
OTRS is considered the gold standard in time study software and is trusted by the biggest names in Japanese and global industry. Developed in conjunction with Toyota Motor Corporation in Japan, OTRS10 is available for PC, and is complemented by the IOS app Mobile OTRS.
Eliminate waste and standardize processes
Create video-based standard work manuals
Train staff and transfer technical skills
Kaizen and process improvement
LEARN MORE