OTRS Operation Analysis Software Case Study
Nichirin Co. Ltd. | Achieving significant cost reduction through implementing manufacturing improvement with OTRS operation analysis software



Revenue: 59.3 billion yen
※1:Current as of 1 April ※2:FY 2017
Foundation: 1914
Address: 98-1 Edomachi, Chuo, Kobe, Hyogo
(Higashimachi Edomachi Building)
Business Description:
Manufacturing of automotive hoses
Manufacturing of housing hoses
Manufacturing of related parts
Issue
Inefficient operation analysis work and inadequate communication with overseas sites were bottlenecks
Outcome
Thorough implementation of standard work and the use of video-based operation analysis software resolved the issue of cost and language barriers
Inefficiency in shop floor operation analysis work and issues in multilingual communication to implement improvements
Nichirin enjoys a top-class share in the automotive hose market in Japan with their high-quality hoses and related parts used for brakes, car air-conditioners and power-steering. Following their business expansion in Europe and North America, the company quickly established their business in ASEAN countries as well. As a result, the company's business dealings with major foreign manufacturers have expanded quite significantly and their overseas sales now accounts for more than 60 percent of their entire sales.
In 2003, the company started the first stage of their manufacturing improvement project called NNP (Nichirin New Production) project. After the successful completion of the first stage, they started the second stage in 2018. However, with their recent rapid business growth, they were soon faced with challenges in grasping their current operation status as it required a lot of time and effort.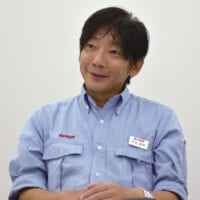 As the company started to establish manufacturing bases in Central America, Mexico, China (Shanghai) and ASEAN countries such as Indonesia, Vietnam and Thailand, the company started to face the hurdle of language barriers when training their local employees. .
" In order to win in the fierce international competition, it is important for us to be able to compete not only on quality but also on cost of the products. During the first stage of our NNP project, we studied the Toyota Production System (TPS) and achieved a certain result through promoting efficiency and automation. In the second stage, we needed to further advance our manufacturing improvement with speed while carrying on the know-how we had acquired through the first stage." – Masahide Toda, Manager, GMI (Global Manufacturing Innovation) Promotion Department
Our company set a medium-term goal of increasing the ratio of foreign employees working for our main departments of up to 15 percent. We run training in our Himeji plant for foreign employees working at our overseas manufacturing bases but one of the biggest problems we faced during the training before was language barriers.
Why OTRS Operation Analysis Software was selected
Easy operability of the software demonstrated during the demo was the key in the decision making
The company used to use paper-based standard work charts they created with Excel. However, it took a lot of time and effort to create their standard works as they used to conduct their time studies using a stop watch. For this reason, they decided to introduce an operation analysis software tool to make this analysis work process more efficient. They reviewed several options from different vendors in comparison and selected OTRS as their analysis tool.
"After seeing demonstrations from several different vendors, we decided on OTRS because of its fine usability. Once you shoot a video and import the data into the software, anyone can analyze the information and see the footage of the work before improvement and after improvement in comparison. We thought this feature would help us a lot when we need to teach our foreign employees the difference between good work and poor work." – Naoshi Hisada, Group Chief, GMI Promotion Department
Against this backdrop, OTRS was first introduced to their Himeji plant as a tool to advance the company's manufacturing improvement as well as to train their operators on the shop floor including those working in their overseas manufacturing base.
Video recording workshop was held to promote shop floor-led OTRS applications
The company set the goal of developing resources who could lead and implement manufacturing improvement though NNP activities in each of their manufacturing bases. For this reason, they opted for shop floor-led OTRS applications and called for candidates from the shop floors who would be in charge of OTRS.
As properly recorded video footage would be vital for their work analysis, the company ran a video recording workshop for them so that they could shoot video appropriately and efficiently.
"With OTRS, it is easy to analyze our work. However, if the footage recorded doesn't capture the operator's hand movements properly or angles of the video recording were not consistent, we cannot use the footage. As such, we decided to firstly train our operators to get this right so that we won't waste our time and resources as a result of re-shooting the video. " – Hiromi Yasuda, GMI Promotion Department
"Our Mexico plant was the first overseas manufacturing base to have OTRS introduced. When this happened, we invited some of the local employees from the Mexico plant and ran OTRS training with the support of Broadleaf. Though the time we had for the training was limited, they seemed to have been able to learn all fundamental functions of the software well and we haven't received any enquiries from them after they returned back to Mexico." – Hiromi Yasuda, GMI Promotion Department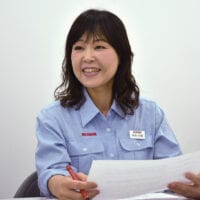 As the company started to establish manufacturing bases in Central America, Mexico, China (Shanghai) and ASEAN countries such as Indonesia, Vietnam and Thailand, the company started to face the hurdle of language barriers when training their local employees.
As of mid 2018, the company has introduced OTRS in their three different sites including their subsidiary based in Japan and overseas. In addition to the standard English and Chinese edition of the software, the company is considering to add Thai in their language file options to help implement further improvement.
Achieving significant cost reductions through NNP project activities
Nichirin has achieved significant cost reductions as a result of thorough implementation of standard work based on their work analysis with OTRS.
"Twice a year in June and December, we have a presentation day where we report on the achievements we made through NNP activities. During the presentation held in December 2017, we were able to recognize a significant cost reduction we had achieved company-wide through the activities run by 12 teams across the company." – Naoshi Hisada
They also recognized the benefit of being able to create their presentation materials in a short amount of time. They used to present their content with texts and photos. However, having been able to show video as part of the presentation helped them to improve their presentation. They use OTRS from setting their target, analyzing their progress to measuring the final outcome at the end of the target period. OTRS has become an indispensable tool for the NNP activities. They also utilize the software as a video editing software as well.
"When we introduced new equipment in our plant in India, we firstly installed the equipment in our plant in Japan and then created a video manual in English using the equipment. After that, we took the equipment to India and taught the local staff members how to used it by using the video manual we had prepared. We didn't have to create other paper-based instruction documents such as standard operating procedures, which used to take a lot of our time and effort. With the video manual, the local operators were also able to learn the work procedures much more easily by spending less amount of time. It was like killing two birds with one stone." – Naoshi Hisada
Promoting standard work globally with a persistence to high quality
The business environment that surrounds Nichirin is changing fast as the world is seeing a shift towards electric vehicles from internal combustion engine vehicles. There is also a rapid growth in emerging markets such as China and ASEAN. The era that products could be sold just because they were made in Japan has ended. In order to survive the recent fierce international competition, the company has to offer high quality products at a competitive price. Nichirin highly regards the importance of standard works. They are planning to enhance their global manufacturing improvement capability by increasing the number of sites with OTRS as well as the active use of the operation analysis software already introduced in their Himeji plant, Japanese subsidiary and the plant in Mexico.
We don't have to make regular visits to our overseas manufacturing sites to inspect their operations anymore. By analyzing the video footage sent from each site in comparison, we can identify the sites that would require most of our attention. As the rigors of international competition intensifies, we need to expedite our efforts to improve our manufacturing processes and quality more than ever.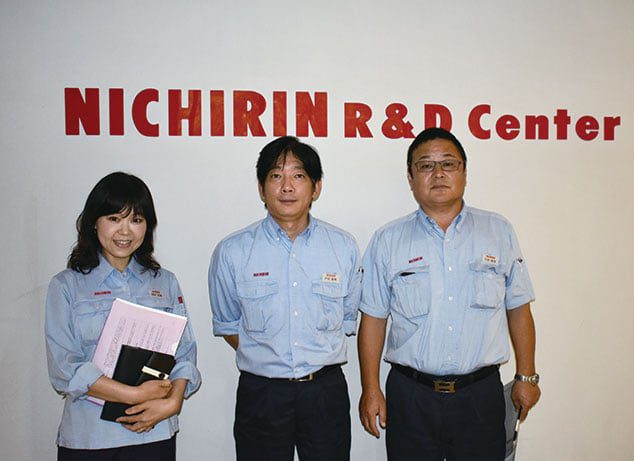 Providing support for our overseas plant inspections from Japan with OTRS
Our managing director was recently visiting one of our overseas plants and came across some concerns when he saw one of the works performed at the site. He sent us a video of the concerning work by email to us. Following that, we analyzed the work with OTRS in our Himeji Plant and sent a report with important data back to him by email. Thanks to OTRS, we can provide a prompt support like this which was never possible before we had OTRS. Since we can analyze works performed in our overseas manufacturing bases in Japan as long as they can send the video data to us, we can also save cost and time associated with our overseas trips.
Mr Masahide Toda
Manager, GMI Promotion Department
Mr Naoshi Hisada
Group Chief, Manufacturing Improvement Group, GMI Promotion Department
Ms Hiromi Yasuda
Manufacturing Improvement Group, GMI Promotion Department

OTRS is a time and motion analysis software product supported by Shinka Management, with an installation base of 6000 licenses spanning 20 countries.
For further information, or to request a demo or trial, see OTRS10 or Mobile OTRS.