Aijinkai Rehabilitation Hospital – Site Tour
Aijinkai Rehabilitation Hospital is a hospital affiliated with the Aijinkai Healthcare Corporation. The hospital is located in Takatsuki City, Osaka Prefecture and is adjacent to the Aijinkai Group's Takatsuki General Hospital. The hospital is fitted with high-tech rehabilitation equipment and has set up a cross-functional team to provide high-level rehabilitation services and support for those recovering from serious illness or surgery as well as those with disabilities.
Hospital: Aijinkai Rehabilitation Hospital
Foundation: 1983
Location: Takatsuki City, Osaka Prefecture
Affiliation: The Aijinkai Healthcare Corporation
Number of departments and hospital beds: 8 medical departments with 210 beds in the Recovery Rehabilitation Ward and 54 beds in the Disability Care Ward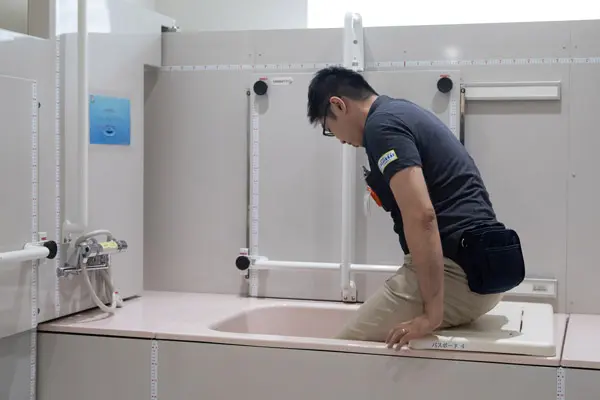 Aijinkai Rehabilitation Hospital – Lean Characteristics
TQM, QC Circle, Kaizen
Based in Osaka, Aijinkai Rehabilitation Hospital is part of Japan's Aijinkai Group of healthcare facilities. The group is a leader in lean healthcare and healthcare innovation.
Japanese healthcare providers have long struggled with the competing needs of increasing quality of healthcare service, serving an ageing community and managing budgetary constraints. Aijinkai Rehabilitation Hospital has focused its efforts on lean application to create a culture of improvement amongst its staff to respond to these challenges.
Aijinkai Rehabilitation Hospital is one of a growing number of Japanese hospitals utilizing Quality Control Circle activities and Total Quality Management related approaches to develop problem solving capability across its staff. Results from group improvement activities spanning several months are shared across the hospital through presentation days, and employees are encouraged to attend and present at regional and national TQM contests.
The Shinka Management Lean Japan Tour is a professional development program run several times annually. The program includes a mix of lean and kaizen seminars, hands-on lean training and visits to several benchmark lean companies. For further information and program dates, see the lean tour overview page.
Interested in joining us in Japan? For additional information prior to registration please fill in the form provided or contact us.