How lean machines can lift the bottom line
Rick Wallace | The Australian | 26th Aug 2014
Japanese version | 日本語(抄訳)はこちら
JAPANESE management techniques drawn straight from the production lines of that country's industrial giants are making a surprising contribution to Australian firms as diverse as tech darling REA Group and transport operator Metro Trains.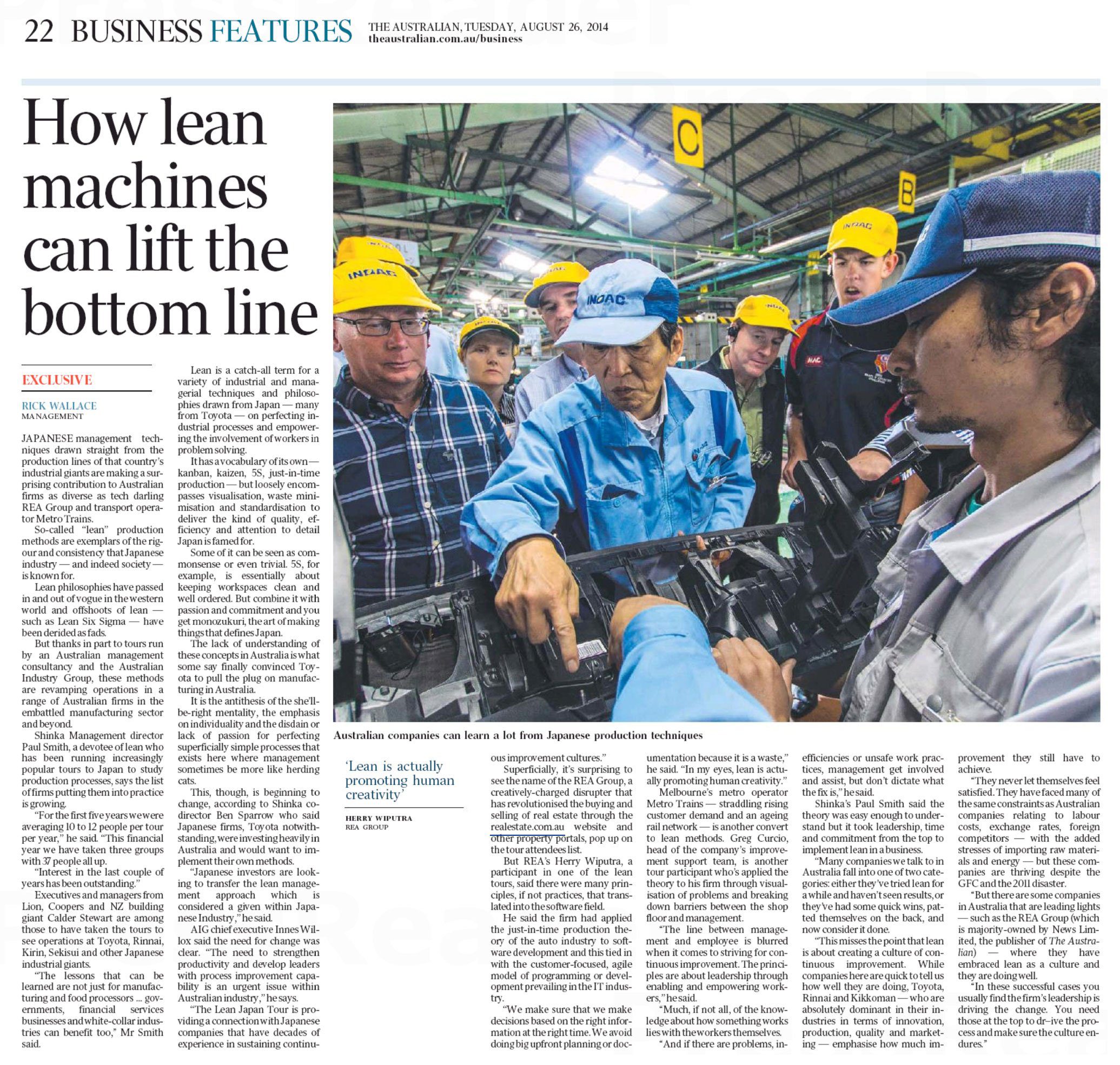 So-called "lean" production methods are exemplars of the rigour and consistency that Japanese industry — and indeed society — is known for.
Lean philosophies have passed in and out of vogue in the western world and offshoots of lean — such as Lean Six Sigma — have been derided as fads.
But thanks in part to tours run by an Australian lean management consultancy and the Australian Industry Group, these methods are revamping operations in a range of Australian firms in the embattled manufacturing sector and beyond.
Shinka Management director Paul Smith, a devotee of lean who has been running increasingly popular tours to Japan to study production processes, says the list of firms putting them into practice is growing.
"For the first five years we were averaging 10 to 12 people per tour per year,'' he said. "This financial year we have taken three groups with 37 people all up.
"Interest in the last couple of years has been outstanding."
Executives and managers from Lion, Coopers and NZ building giant Calder Stewart are among those to have taken the tours to see operations at Toyota, Rinnai, Kirin, Sekisui and other Japanese industrial giants.
"The lessons that can be learned are not just for manufacturing and food processors … governments, financial services businesses and white-collar industries can benefit too," Mr Smith said.
Lean is a catch-all term for a variety of industrial and managerial techniques and philosophies drawn from Japan — many from Toyota — on perfecting industrial processes and empowering the involvement of workers in problem solving.
It has a vocabulary of its own — kanban, kaizen, 5S, just-in-time production — but loosely encompasses visualisation, waste minimisation and standardisation to deliver the kind of quality, efficiency and attention to detail Japan is famed for.
Some of it can be seen as commonsense or even trivial. 5S, for example, is essentially about keeping workspaces clean and well ordered. But combine it with passion and commitment and you get monozukuri, the art of making things that defines Japan.
The lack of understanding of these concepts in Australia is what some say finally convinced Toyota to pull the plug on manufacturing in Australia.
It is the antithesis of the she'll-be-right mentality, the emphasis on individuality and the disdain or lack of passion for perfecting superficially simple processes that exists here where management sometimes be more like herding cats.
This, though, is beginning to change, according to Shinka co-­director Ben Sparrow who said Japanese firms, Toyota notwithstanding, were investing heavily in Australia and would want to implement their own methods.
"Japanese investors are looking to transfer the lean management approach which is considered a given within Japanese Industry,'' he said.
AIG chief executive Innes Willox said the need for change was clear. "The need to strengthen productivity and develop leaders with process improvement capability is an urgent issue within Australian industry,'' he says.
"The Lean Japan Tour is providing a connection with Japanese companies that have decades of experience in sustaining continuous improvement cultures."
Superficially, it's surprising to see the name of the REA Group, a creatively-charged disrupter that has revolutionised the buying and selling of real estate through the realestate.com.au website and other property portals, pop up on the tour attendees list.
But REA's Herry Wiputra, a participant in one of the lean tours, said there were many principles, if not practices, that translated into the software field.
He said the firm had applied the just-in-time production theory of the auto industry to software development and this tied in with the customer-focused, agile model of programming or development prevailing in the IT industry.
"We make sure that we make decisions based on the right information at the right time. We avoid doing big upfront planning or documentation because it is a waste,'' he said. "In my eyes, lean is actually promoting human creativity."
Melbourne's metro operator Metro Trains — straddling rising customer demand and an ageing rail network — is another convert to lean methods. Greg Curcio, head of the company's improvement support team, is another tour participant who's applied the theory to his firm through visualisation of problems and breaking down barriers between the shop floor and management.
"The line between management and employee is blurred when it comes to striving for continuous improvement. The principles are about leadership through enabling and empowering workers,'' he said.
"Much, if not all, of the knowledge about how something works lies with the workers themselves.
"And if there are problems, inefficiencies or unsafe work practices, management get involved and assist, but don't dictate what the fix is," he said.
Shinka's Paul Smith said the theory was easy enough to understand but it took leadership, time and commitment from the top to implement lean in a business.
"Many companies we talk to in Australia fall into one of two categories: either they've tried lean for a while and haven't seen results, or they've had some quick wins, patted themselves on the back, and now consider it done.
"This misses the point that lean is about creating a culture of continuous improvement. While companies here are quick to tell us how well they are doing, Toyota, Rinnai and Kikkoman — who are absolutely dominant in their industries in terms of innovation, production, quality and marketing — emphasise how much improvement they still have to achieve.
"They never let themselves feel satisfied. They have faced many of the same constraints as Australian companies relating to labour costs, exchange rates, foreign competitors — with the added stresses of importing raw materials and energy — but these companies are thriving despite the GFC and the 2011 disaster.
"But there are some companies in Australia that are leading lights — such as the REA Group (which is majority-owned by News Limited, the publisher of The Australian) — where they have embraced lean as a culture and they are doing well.
"In these successful cases you usually find the firm's leadership is driving the change. You need those at the top to drive the process and make sure the culture endures."
This article was authored by Rick Wallace and originally appeared in The Australian on Tuesday 26th August 2014.
For further information regarding our Lean Japan Tours see: Lean Japan Tours | Kaizen Training