International visitors embrace Ashikaga-Style 5S
Japan | 8 July 2023 | Shimotsuke Shinbun | Originally published in Japanese

On April 7, about 20 people from Australia and nine other countries visited Ashikaga City to observe companies that practice the Ashikaga-style 5S approach to business efficiency through "Seiri, Seiton, Seiso, Seiketsu, Shitsuke," and toured the factories of Kikuchi Gear (Fukutomi Shinmachi) and Fukai Manufacturing (Otsuki Town).
The tour was organized by Shinka Management, a consulting company headquartered in Australia. The group visited Kikuchi Gear in the morning. While listening to the explanation of the staff hosting the tour, they observed the shelves where parts and tools are neatly lined up, learned about the work process management system, and took notes enthusiastically.
Paul Thomas, who works in manufacturing in Australia, praised the cleanliness of the factory. Mohammed Al-Ayed, a participant from Saudi Arabia, said, "I was impressed by how the employees come together as a team to make concerted efforts to improve operations."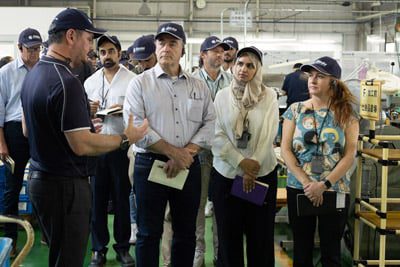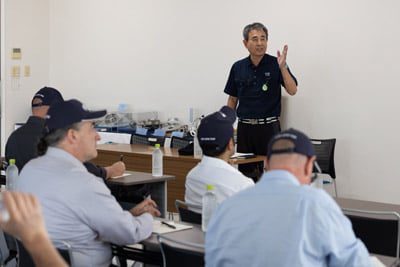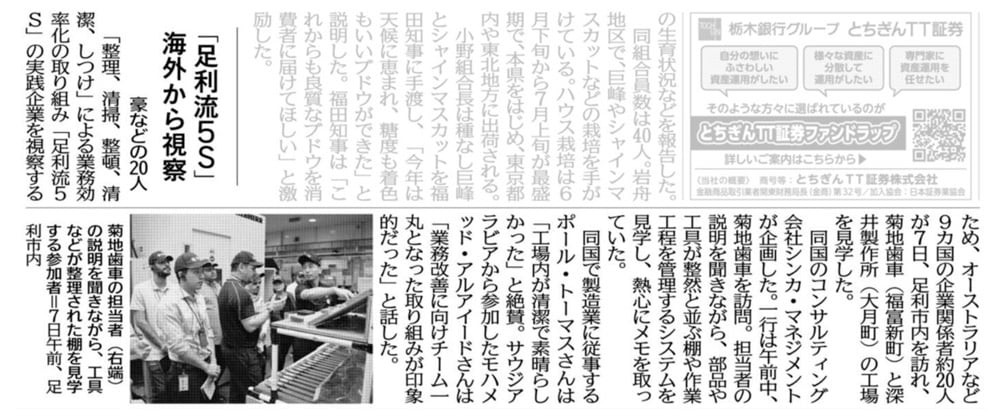 About Shinka Management
Shinka Management is a global lean management consulting firm. The company specialises in the transfer of Japanese management knowledge to industry worldwide. Shinka Management's lean consultants support clients in over 60 countries with lean consulting and training programs, including lean study tours to Japan.