Australian business learns from Lean Sensei
Gabrielle Campion | Chamber of Commerce and Industry Western Australia | April 2015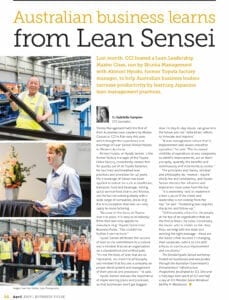 Shinka Management held the first of their Australian Lean Leadership Master Classes at CCI in February this year, which brought the experience and teachings of Lean Sensei Akinori Hyodo to Western Australia.
Akinori Hyodo, or Hyodo Sensei, is the former factory manager of the Toyota HiAce factory, consistently ranked first for quality out of all Toyota factories. He has lived and breathed lean practices and processes for 40 years. His knowledge of Kaizen has been applied to industries such as healthcare, transport, food and beverage, mining, quick service food chains, and finance, and he has consulted globally with a wide range of companies, dispelling the misconception that lean can only apply to manufacturing.
"Because of the focus on Toyota over the years, it is easy to mistakenly think that lean only applies to manufacturing," Hyodo Sensei told Business Pulse. "This couldn't be further from the truth."
Hyodo Sensei attributes the success of lean to the commitment to a culture and a mindset that set an organisation on a standardised and unified path. "It's not the tools of lean that are so impressive, but more the philosophy and mindset that focuses a company on proper development and management of their people and processes," he said. Hyodo Sensei stresses the importance of implementing plans and processes, so that businesses don't get bogged down in day-to-day issues, can grow into the future and not "stifle [their] efforts to innovate and improve".
"A lean management culture that is implemented well allows smoother operation," he said. "The increased visibility of operations allows companies to identify improvements, act on them promptly, quantify the benefits and continuously and incrementally evolve."
The principles and theory, mindset and philosophy do, however, require discipline and consistency, and Hyodo Sensei stresses the influence and inspiration must come from the top. "It is extremely hard to implement a lean culture if the vision and leadership is not coming from the top," he said. "Sustaining lean requires discipline and follow-up."
"Unfortunately, often it is the people at the top of an organisation that are the first to break the rules. Conversely, the leader who is visible on the shop floor, working with the team and sending the right message – these are the leaders that succeed in changing their corporate culture to one with a focus on continuous improvement and excellence."
The Skinka/Hyodo Sensei workshop hosted 40 businesses and was funded through the Australian Government's Entrepreneurs' Infrastructure Programme, facilitated by CCI. One and a half days were spent at CCI and half a day at CCI Member Jason Windows' facility in Welshpool.