How to Achieve Lean Buy-in across Your Organization
The other day I came across an interesting program on BBC's Business Daily focusing on how some people aspire to be "mediocre" *. The program highlighted that society nowadays puts too much emphasis on the importance of being special and excellent.
We know that many of today's top selling business books are often about how to be successful and urge the readers to be productive and efficient. But as a result, many of us are feeling under too much pressure to pursue this very idea of being perfect.
The Pressure of Pursuit of Excellence
Although I was raised in Japan, I now live in Australia where many things are influenced by this Anglo-Saxon way of thinking and values. I can certainly see this idea of pursuit of excellence reflected and encouraged in our society in general.
However, as our world is made up of many different types of people, it is understandable that while some people are success-driven and in tune with this way of thinking, others choose to be "average". In some cases, some may even feel uncomfortable with the idea of pursuing excellence for the sake of being perfect. Personally, I can sympathize with those who are feeling under pressure as, after all, we humans are not perfect in many ways and it is not easy to be excellent all the time. It is natural for many of us to seek a simpler and easier path to a stress-free life if given the choice.
The program also discussed the concept of kakonomics – the word made up of the ancient Greek prefix kakos and economics, meaning "the economics of being bad." Italian philosopher Gloria Origgi coined the term in reference to those who find this rhetoric of pursuing efficiency to be unbearable and "conspire, consciously or unconsciously, to achieve the lowest possible outcome, the most mediocre outcome all for an easy life." In addition, according to her, in some cultures, if people do what they are told to do, they are negatively perceived to be perfectionists who try to impose high standards on everyone.
Challenges that Face Lean Leaders
Listening to the discussion, I realized that this type of thinking is what many leaders find themselves dealing with when they try to promote lean within their organization. We often hear that lean leaders face the challenge of having to fight against strong push back from some parts of their organization. In some cases, they must also overcome the differences in so-called cultural traits that hinder them from becoming a world class organization – often claiming the false notion that only the Japanese can truly master the art of lean because of this difference in cultures.
Purpose of Lean and Kaizen
But, let's think about this for a moment. What is the main purpose of lean? The purpose of lean management can be summed up as abnormality control and if you unravel this concept of abnormality control into a deeper level, you will soon realize this is all about finding problems (abnormal situations) and dealing with the situation to make your life easier and better. The same thing can be said about kaizen. We implement kaizen in order to address problems such that our lives become easier. Therefore, the primary objective of lean is not to be perfect or excellent.
Through lean we strive to create a trouble-free environment for everyone as much as possible. For example, when the shop floor layout is poor, workers suffer. When there is waste in our process and stagnation in the flow of materials and/or information, this creates more problems for us to deal with. If important information is not visualized and shared, it is difficult for everyone to understand what is important. When the cost of what we do is high, we have to settle for less profit. When we deliver defective products to our customers, we must follow up and resolve these problems.
Lean can address all these issues when implemented properly and I can go on with many more examples where tools of lean can be put in place to make our lives easier and less stressful. After all, being efficient and productive, which is often what lean is known for, is a by-product of years of problem-solving and applying kaizen to control abnormality in order to create a trouble-free environment.
Misguided Understanding of Efficiency and Lean
Unfortunately, many people seem to have a misguided concept around efficiency and lean. Many of us are somehow led to believe that pursuing efficiency and raising productivity is all about working more and producing more, which leads to "inhumane" work practices that create more stress. However, all these notions are far from what lean is trying to achieve. In fact, lean advocates that over-production is the last thing you should do and reducing muri or over-burden from your work practice is highly encouraged. For instance, the idea of standard work – which many misunderstand as forcing humans to behave as robots – is developed with the intention of enabling anyone to be able to carry out the same work and achieve the same outcome in the most comfortable and optimal manner while ensuring safety and quality. If you learn to perform your work following standard work practices, you will soon realize you don't tire in the same way as you would by carrying out the process over and over in a random manner.
Furthermore, if those working at the operator level come across a problem, they are not pushed to solve it by themselves. In fact, in the world of the Toyota Production System, an operator's responsibility is to stop and call for assistance when they detect a problem. This is to make sure that the problem is addressed properly and safely, and to prevent the same issue from occurring again. At Toyota, there is a clear difference in terms of roles and responsibilities for people at each level of the organization and the required level of problem solving undertaken by each level. So, this should be of comfort for those operators who may otherwise feel that implementation of lean would be a further burden on them.
However, this doesn't mean that those at the operator level cannot have a say in the problem-solving process. On the contrary, they are encouraged to share their ideas to help solve problems they identify. There is a proper channel to voice their opinions which is known as the "kaizen suggestion scheme" and management listens to their suggestions and follow up accordingly.
So, we should be presenting lean to those who are dismissive and unwilling as a tool to make their lives easier and stress free.
Importance of Setting High Goals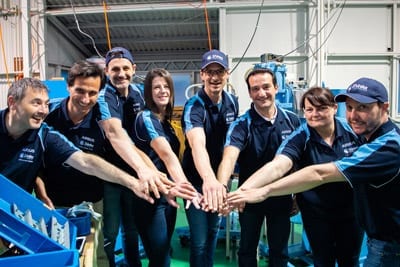 Having said that, I am not suggesting that lean is something that can be easily implemented. I can guarantee that people will encounter difficulties and obstacles. There is no denial that there are many challenges that an organization must overcome on their lean journey. As a matter of fact, if you are a lean leader and serious about improving your organization, you must set high goals to achieve and challenge your team.
The BBC program pointed out that mediocrity at a personal and isolated level is acceptable (in the end, this is a matter of personal choice) but if a whole society starts to "shun the tyranny of excellence", the society will end up normalizing low standards. In other words, if leaders of an organization accept being mediocre and average, the organization will lose its competitiveness.
How to Achieve Buy-in from Employees
As a leader in an organization, you will work with many different types of people, not all of whom will be on board with new concepts. It is inevitable that you will face resistance from people who misunderstand the concept of lean. Based on what was discussed in the program, this idea of pursuing efficiency and striving to be world class does not necessarily sit well with some people, and you may encounter this especially at the beginning of your lean journey. So, if you struggle to get buy-in from these people, simply present lean as something that will make their lives easier. Let them know this from the outset rather than focusing too much on productivity and efficiency. Pursuing efficiency under lean is not about intensifying their labor and making their lives difficult. In addition, when you come across those who are switched on and aspire to grow further, make sure to assign them to an appropriate position and level of responsibility so that your organization will be on a good path to become an excellent organization.
In order for you to do this, it is important that you, as a leader, observe your workplace and your people well and have the right organizational structure in place with clear roles and responsibilities at each level. Also, don't forget to set high goals for the organization and create a culture where people are challenged but not afraid of taking action without fear of failing in order to inspire those workers who aspire to pursue excellence as this will boost your organization's competitiveness.
So, next time you face some strong backlash against the implementation of lean or come across negative reactions to the idea of efficiency and pursuit of excellence from the people in your organization, think again as to how you present the idea of lean and make sure to spend enough time to explain the true objective of lean as a means to make everyone's work easier – this may help you to get more buy-in from your people.
Eri Dennis is a Consultant of Shinka Management, a lean training and consulting firm with clients in over 60 countries. Eri is a regular leader of Shinka Management's lean manufacturing study missions to Japan. Eri graduated with a Master of Arts in Japanese Interpreting and Translation from the University of Queensland and is NAATI accredited as a Professional Level Interpreter and Professional Level Translator.