Kaizen Suggestion Schemes
Akinori Hyodo, former Factory Manager, Toyota HiAce Factory | #AskSensei Event 7 Summary

Kaizen plays an important part in helping an organization mature into a lean enterprise. However, getting everybody involved in continuous improvement initiatives can be a challenging task. We discuss the benefits of Kaizen Suggestion Schemes with Lean Sensei Akinori Hyodo sharing examples from Toyota.
Introducing a Kaizen Suggestion Scheme
We will be discussing Kaizen Suggestion Schemes today. I will talk through this topic and provide some examples from Toyota in my discussion.
Firstly, the primary objective behind Kaizen Suggestion Schemes is to improve the company. A company faces many problems that occur on a daily basis. In order to improve your company, you need to overcome those issues by addressing them. As there would be many different ways for those problems to be overcome, a kaizen suggestion scheme is put in place as one of the systems and a way of involving everybody to be able to solve those daily problems.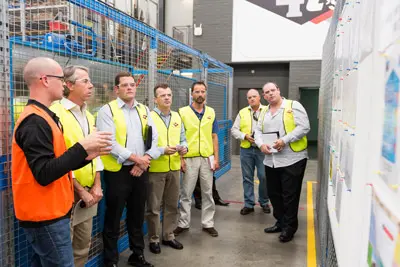 There are two aims to be achieved through this scheme. As I have just mentioned, the first one is to improve your company. We want to achieve positive results for the company by making improvements through this scheme. The second aim is to raise everyone's awareness around kaizen within your company.
A company is set up as an organization with different levels of people from operators to top management and different responsibilities are held by people at each level. So, there is a different role to play at each level of the organization when it comes to this topic.
At the operator level, what we ask of them is to strictly follow the instructions and rules that they have been given, and perform the work assigned to them properly according to standard work. For those who are at a higher level of the organization than operators, their role is to check on the work performed by the operators and if any problems are identified, they need to apply improvements to overcome the problems that operators experience.
Having said that, there are many levels of the organization to consider and there are many matters that staff need to be following up on a daily basis. That is why it is not possible for them to be on top of every single issue that comes up throughout the organization.
On the other hand, operators may find some of the things they have been instructed to do by their team leader don't work so well and they may think of other ways to do things better.
Since there are many issues, and there are corresponding thoughts and ideas floating in the minds of everyone within the organization regarding their work area, the kaizen suggestion scheme provide a formal structure to bring together all of those issues and ideas that have been identified right across the organization. This is a system that enables and encourages everybody including operators to identify problems such that those problems can be overcome and improved.
Under this scheme, when issues and improvement opportunities are identified by operators within a single team, their kaizen ideas are passed up to their team leader. Then, the team leader who best understands their work area will examine the issues and ideas suggested to determine which ones to focus on and implement.
With regards to the approach taken, each company is slightly different in how they approach a kaizen suggestion scheme. As for companies within the Toyota group, in general they offer rewards to their employees when they submit a good idea and when the idea is implemented to help improve their workplace. How much they offer for each idea is different based on the company within the group.
There are companies that incorporate the scheme as a management indicator or KPI and deploy it down to each team level to encourage a certain number of kaizen ideas to be raised each month.
Although this type of scheme exists for everyone, the main characteristic of the scheme is designed around involving operator level people and extracting ideas out of them in particular. This is because, as I have mentioned earlier, as far as those at a team leader, supervisor level and above are concerned, it is an assumed part of their daily role and responsibilities that they are identifying issues and thinking through the ways to overcome the issues they find.
At any rate, I think this is a really good system in aligning everybody within organization to focus on making their organization better.
How would you start a kaizen suggestion scheme?
Firstly, there needs to be a clear objective behind the introduction of a kaizen suggestion scheme, and everybody needs to understand why the scheme is going to be implemented. The management from the team leader and supervisor level upwards need to be leading the way and showing the rest of the organization the steps and the importance of this activity to help everybody understand the purpose of it. Those are important things to be done at the beginning. In doing so, you can raise everybody's awareness around the scheme and particularly with those at the operator level. You can also gain people's buy-in and increase their interest in the scheme such that everybody is on the same page and has a good understanding as to what is going to be achieved with the scheme.
When you think about the primary role of an operator across an eight hour shift, for example, their role is to perform and complete the work that is assigned within a scope of a takt time and repeat the cycle throughout the course of the shift. For this reason, they don't really have time to be generating improvement ideas during those eight hours.
On the other hand, the role of a team leader and those above them is different as I mentioned earlier. Their job is to find problems and to overcome them. So, there are two very different roles to consider here.
When trying to involve your operators, what you shouldn't forget is that you are asking them to do something extra outside of their scope of work when encouraging them to think through the problems they face and suggest improvement ideas for those problems. For this reason it is important for us to recognize their extra contribution. That's why companies within the Toyota group have a reward system in place. We use this as an important way to encourage people to provide their ideas. Another scheme we have internally within the group is a recognition process. In addition, there is also a nation-wide kaizen idea recognition system in Japan. You can utilize all of these as ways to encourage everyone to provide their ideas for improvements.
When starting the scheme in your company, there are two things that you need to be mindful of. Firstly, when you receive a suggestion or an idea from your team members, you shouldn't disregard the idea by saying to them that their idea is no good. Secondly, when you receive an idea, you shouldn't leave it there and take no action. If you are not careful with these two points, you can quickly dampen their enthusiasm and lose cooperation of your people. What is worse, this would also have a negative impact on other aspects of your work as their superior in general.
How do you create and sustain a continuous flow of kaizen suggestions?
I will elaborate on what I discussed earlier to answer this question. First of all, we need to go back to the fact that management need to set a good example for the rest of the organization. This is imperative for sustaining a continuous flow of kaizen suggestions.
In addition, you must consider how best you can extract ideas from your people. There are different types of people with different skills and strengths within your organization. So, if you have an operator who is not good at putting their thoughts on paper, for example, you as a team leader may need to initially sit down with the operator and help the operator to go through the process of generating an idea.
Another point you must be careful of as a team leader is that – and this is a situation we also experience in Japan as well – when you receive suggestions from your operators, you shouldn't be upset by the fact that they had pointed out some issues in the area that you are looking after. Rather than having a negative reaction and disregarding the identified problems, you should always respond by thanking them for their suggestions. As I said earlier, finding issues and making improvements to address those issues is the job of team leaders and those above them. So, you must think that those operators are doing the job for you by identifying the issues in the work area, and you should feel thankful to them for providing the suggestions for making improvement.
It shouldn't be all about giving directions and demanding ideas from your people and telling them off when they don't put forward any ideas. It should be about working with your team members to help extract good ideas from them. These are some of the ideas as to how you can gain sustained cooperation and generate a flow of kaizen suggestions.
As I quite often talk about, those at the bottom levels of the organization are always looking at those above them. People are always observing the behaviors of those above them. That's why it is critically important for those at supervisor and management levels to set a good example and show the way for those employees below them.
You may find the approach I have outlined somewhat time consuming in the beginning. But, when you repeat this approach and when everybody is more accustomed to the idea, you will find that you can gain cooperation from your employees to keep a kaizen suggestion scheme going.
Is there a direct incentive for suggestions in Toyota? If yes, do you see any threats in this? If no, then how does it work?
Pretty much right across the Toyota group, an incentive exists for kaizen suggestion schemes. With regard to how incentives are determined, we have a set of criteria that we allocate points to. To be more specific, in the evaluation sheet that we have for each kaizen idea, there are a couple of sections to be evaluated. One of them is around the effects such as investment cost, labor hours, quality improvement figures, etc. The other section is around the thinking behind the idea such as originality and creativity of the idea etc., and the tally of those points from each criterion will determine the level of incentive that is provided to individuals for their ideas.
As to how you determine the type of incentive provided for each level of idea, this is something for the management of your company to discuss and decide. But, what we have to always keep in mind is that we are asking for operators to provide their thinking, reflections, ingenuity, etc. outside of their normal paid working time. Therefore, I don't think having a system where there is zero incentive and zero reward for operators who are providing their kaizen ideas will be an appropriate approach to setting a fertile environment for generating ideas.
Personally, if you weigh everything up, providing some small incentives to your operators for their ideas will bring more positives than negatives as this system encourages everyone in the organization to put forward their suggestions and ideas to improve the company. This will also help change people's awareness around kaizen and will create a positive environment to improve the company.
Generally speaking, people like to be praised for their good work. We feel good when our good work is recognized. So, setting up a reward system where certain points are allocated to criteria such as the number of kaizen ideas put forward and the content of the idea etc. to recognize their positive contributions will be effective.
And when you combine this incentive system with the recognition system which I previously mentioned – a system where an employee's good kaizen idea is recognized and commended within their team, department, company, the company group as well as at a national-level – and use them together to encourage your employees, you will be able to extract some great ideas from them.
Where Toyota is sitting right now is that the management don't necessarily need to get themselves involved to extract ideas out of operators because Toyota's kaizen culture has matured to a high level. However, if you are just starting out, regardless of whether there will be some incentives or not, I really encourage the management, supervisors and team leaders to work with their people and assist them to come up with their ideas. When people can sense that their voices are heard and valued by those above them, they will feel comfortable to put their ideas forward and get positive feelings about helping those above them. If a monetary reward scheme is not something you can put in place at an early stage, you can at least be mindful of this point and start with that feeling of helping each other out.
Is there a specific time that operators think about kaizen outside the eight-hour shift?
Depending on the company, there are various ways to approach this. This also depends on who does the kaizen improvement. Drawing the example from where I come from, the definition of the role of an operator is to work on the line for eight hours a day and to perform the work in accordance with the production plan for that day.
What generally happens across the Toyota group in terms of operators engaging in kaizen-related activities, is that they get involved when they are not working on the line. Thus, they are expected to do kaizen outside of their work hours. This may be 30 minutes after their shift is finished or may be on a weekend if it requires longer time for them to go through their kaizen ideas.
But, there is no solid rule as to when the team leaders should be managing kaizen. In some way, it is left to the individual management style of the team leaders. While some team leaders implement kaizen ideas during the shift, others may do it after the shift. In some cases, there is a dedicated kaizen team within the department that helps people with their kaizen implementation. So, there are various ways that kaizen-related activities can be performed.
But, regardless of when those kaizen activities are performed, when you have operators working outside the normal course of their work hours to go through their improvements – whether it is for an extra 30 minutes after their shift or even for a few hours over a weekend – they are paid for the extra work.
With regards to the kaizen ideas to be implemented, there are various levels of improvement that can be made. While some ideas can be very simple, low-cost and don't take much time to do, others may cost a lot more and take much longer to implement. In any case, what you always have to keep in mind is the objective behind doing these improvements. Since the objective is for the company to improve and to be better, you cannot be implementing kaizen ideas that are working against this objective and that lead to producing negative results. Therefore, you always need to weigh up the investment verses the effect of each improvement idea before implementing them.
Does Toyota categorize suggestions into levels, for example based on the amount of work required to implement the suggestion and the potential impact of the suggestion?
When you go down the track of this type of scheme, you will always have many different suggestions. Where we place our priorities is those suggestions that improve safety. Another point we focus on is the "investment-versus-effect" as I have just referred to at the end of my previous answer.
Generally speaking, the ideas that are coming out of your work area would be tailored towards addressing the issues in your work area. And, those in the supervisor or management roles within your work area would understand where the needs are. Therefore, they evaluate the ideas that are coming through and decide the priority order based on the aforementioned points as well as the needs, the time and cost constraints within the section etc.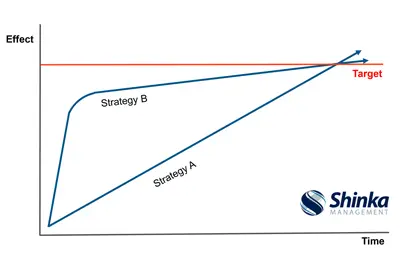 Reflecting on how I used to do it, each year high targets were set by the organization – let's say around cost reduction, kaizen etc. – and these targets were cascaded down from the very top of the organization to where I was managing at that time, and my area needed to achieve those high targets that were set. So, I used to formulate a few strategies to achieve the target. For example, as I draw in this picture, one strategy is to reach the target by steadily and constantly working towards achieving the target throughout the year (Strategy A). Another one is to implement certain improvement measures that have a bigger effect as quickly as possible at the beginning of the year so that you can benefit from the effect of the improvement for the rest of the year, and implement those improvements that have less effect over the remainder of the twelve months (Strategy B).
The most senior person within the work area must determine the overall strategy based on the targets to be fulfilled first. Following that, how decisions are made on a daily basis is basically driven by the overall strategy. This includes decisions as to which individual kaizen ideas are to be implemented, their timing and priority, with consideration as to how the area is going to achieve the high targets that have been passed down for the twelve months.
Another point regarding the priority is that implementation of every idea has some kind of cost associated with it, whether it is an actual investment cost in materials or labor, etc. So, the decision must be made based on the most cost-effective timing of each idea in relation to the overall strategies as I have just explained.
In the course of achieving the targets, if there is something that the team leader isn't able to fulfill, that becomes the responsibility of the supervisor. If there is something that the supervisor is unable to achieve, then that becomes the responsibility of the manager. If the manager cannot do it, then responsibility will rest on the general manager or director, etc. So, the responsibility will move up the direct line to the top management of the organization.
So, the leader or the manager of an area – whatever the level of the organization may be – they should best know their workplace and how to prioritize ideas in terms of their implementation. If those people do not understand what to prioritize first, they are probably not looking at their workplace closely enough. They are not understanding the genba as much as they need to.
Lastly, I wish to touch on certain key kaizen principles within Toyota. The first one is not to spend money. We say, "rather than spending money, use your brain to come up with improvement ideas." The reason behind this is if you throw money at your problem, you don't go through a deep thought process. We believe that people will develop as an individual by thinking through a problem, and the company will grow as each individual develops by going through such a process.
Another principle is to implement ideas quickly. This is because there is no kaizen idea that is implemented and can be 100% right the first time around. There is always going to be an issue or two remaining with your first attempt in implementing improvements. This provides you with a new opportunity to overcome those remaining problems to reach the target you intended to achieve. So, when a kaizen idea is to be implemented, we implement it quickly, give it a try, see where problems are and overcome those problems, and we repeat this cycle over and over continually to increase our level.
#AskSensei is a regularly-scheduled webinar held together with Shinka Management Senior Consultant and former Toyota HiAce Factory Manager and Director Akinori Hyodo. Each event we cover a different topic related to lean, with participants invited to put their questions to Hyodo Sensei.
To be notified of up-coming #AskSensei webinars and other events, sign up to our eNews mailing list at the bottom of this page.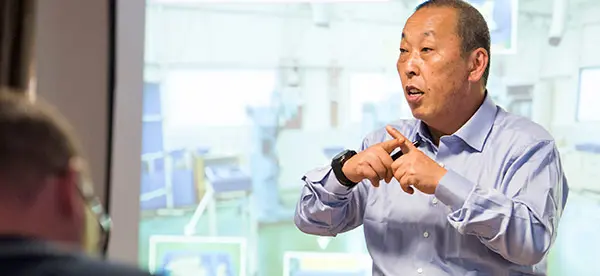 Up-coming #AskSensei Events and Registration
For further information about the #AskSensei webinar series, please refer to our #AskSensei overview page.