How to Read a Factory
Akinori Hyodo, former Factory Manager, Toyota HiAce Factory | #AskSensei Event 18 Summary

Having the ability to read and look at a factory or workplace properly is one of the important skills for those in a management position. How should you go about observing your site and what are the important points for you to pay attention to? Akinori Hyodo shares his thoughts on the thinking and approach on this important topic.
How You Should Read a Factory
Today, I will be talking about how you should read and look at a factory or your own workplace when you walk through it. I am going to share my thoughts on the thinking and approach from a lean perspective and what particular points you should be paying attention to. Since supervisors are already working on the shop floor in general, I wish to focus on how those above the supervisor level up to the top of the organization should be looking at their factory and operations.
Although I have touched on this a few times previously, I want to reiterate the importance of having a clear structure in place within your organization and the different roles and responsibilities people have at each level of your company, even within the management structure.
Those people at the higher end of the organization are in the role of managing but also controlling and steering the direction of the business. Therefore, a big part of their responsibilities is to manage and control their operations. Now, I want you to think for a moment what I mean by "manage" and "control" in this context. Managing and controlling the business here means finding problems, understanding where the problems are and overcoming these problems by implementing improvements, in order to keep things on track towards the target.
When you are looking at a factory or at your own workplace, another point I want you to reflect on is the objective behind it. Why do you go to look at your workplace?
As I have just touched on, an important responsibility of those higher up in the organization is to "manage" and "control" the operation, and a big objective for them in observing their workplace is to identify problems that need attention. There may be cases where they already have some information that they have obtained before heading into the workplace that they specifically intend to check and confirm. But, there are also cases where they go out to their workplace with no prior information and identify problems.
When you walk through a shop floor or a workplace, you should be able to make a judgement as to whether something is good or bad, whether things are going well or if there is a problem, etc. As I said before, in order for you to understand whether things are good or bad, you will first need to have a standard in place to help you determine that.
So, with the standard in place, it helps you as a manager to understand whether things are good or bad. But, the specific objective of your visit to the shop floor or workplace wouldn't always be the same. Today, you may have the objective of having a general look at your workplace to gain a general understanding of how everything is going. But, tomorrow, you may have some specific bottleneck to focus on.
But, irrespective of what the specific objectives and focus points of your visit are, the important thing is to have your workplace or shop floor set up in such a way that you can immediately be able to understand whether things are normal or abnormal when you take one step into that workplace. This is why you have various standards and tools in place in your workplace that help you to see your targets and results and to determine whether things are running according to plan.
That is why many of us are using various tools such as visual management boards, andon systems, etc. These are the type of tools that you can use to be able to see whether things are good or bad. But, if you cannot make a judgment to determine whether things are good or bad, or normal or abnormal, despite the fact you have such tools in place, then you don't actually have the right tools set up or the tools you have in place are not functioning properly.
It's the role of management to determine which situation you are experiencing and if you cannot distinguish whether things are good or bad with the existing tools you have in your workplace, you must address that situation by introducing the right tools or modifying the existing tools so that you can understand and read the situation of your workplace properly.
Another way to view your workplace is when you already have some information around your operation before you visit the site – such as information around production numbers in terms of plan vs actual, quality, etc. When you get out on the shop floor, look at the tools in place on the shop floor to identify whether the information you have really reflects the actual information shown on the shop floor.
So, this type of information should be made available at the entrance of the shop floor or workplace. This is the best location for such information to be. This is because if there is a problem in a specific area, you can quickly identify the area and you can go directly to that area to assess the problem for yourself.
In general, the purpose of a factory is to produce good quality products at a low cost for customers. So, from the perspective of "putting your customer first", it is also important for you to be able to check the situation of your operation at the very end of the process since this is the closest point to your customers. That's why it is also important for you to have information at the end of the process. So, at the exit, you should also be able to understand the numbers and situation around your efficiency, operational availability, inventory level, etc.
In that part of the factory, what I generally look for is information on or direct observation of inventory. As I always say, the amount of inventory that a company has is a reflection of the capabilities of that company. When the company has low capability, they need to have a high level of inventory of finished products in order to cover the lack of capability. Likewise, when a company has good capability, they can hold on to less finished product inventory. That is why this is certainly something that I look for at the exit area of the shop floor.
Based on the general observation from my experience, despite all the talk around theoretical figures as to what level of inventory is appropriate, etc., I find what is often lacking is a general visual indicator of how much is the appropriate level for finished goods inventory in that factory.
When I see a large amount of finished goods inventory at the end of the processes, what I observe next is the previous process of final assembly and I will try to find out what kind of issues they have in the final assembly such as line stoppages, quality issues, etc.
In terms of an approach to improving your capability, I will then take steps upstream through each process to work on building capability in each process.
Another suggestion I have for you is rather than going out to the site at random times each day, you should set up a schedule so that you go out on to the shop floor at the same time of the shift on each day.
Obviously, the more regularly you can do this the better. For example, if you would go out to observe your factory at the beginning of the shift, you should repeat the same pattern again and again at the same time of the shift so that you will be able to much more easily see where the problems and changes are. If you go out to observe the site at completely different times along the shift, there will be natural changes anyway. So, try to make it the same time each day. Hopefully, in a manager's schedule, he/she has some control over that to be able to make these regular times to go out and look at the shop floor.
Within a manufacturing company, there are also various other departments and sections that are in an office environment as well. But, the results of what they are doing in each of those office environments generally can be seen and felt as results on the shop floor. The next process from their work is usually the shop floor. Therefore, I would also recommend those in management responsible for office-based work to also go out to the shop floor and see the results of the work that they are doing.
In an organization, you have people above you, alongside you and below you, and you are having conversations with them and receiving information from various people and various sources. Having said all this, the information you can trust the most is the information you see with your own eyes. Based on this, I would encourage you to be out on the shop floor and to see and confirm things for yourself. That's the most trustworthy information you can have.
These days, many pieces of information are managed by technology and transferred and shared on a screen. There are many managers who believe that they are managing their workplace by looking at the information on their screen. However, this is not management. Generally speaking, what you can see on this information on the screen is just an outcome or result of something. It is important for you to understand what has led to that result or outcome as well. And, in most cases, you cannot see that information by looking at the result on the screen. That is why it is important for managers to go and see directly what has led to a certain result with their own eyes. Managers must understand both the result and what has led to the result. Managers need to use this understanding together as a set for them to manage things properly. If managers could gain an understanding of both of these aspects from their computer screen, then that would tick the box. However, since it's not the case in most environments, they need to be going to the shop floor.
Out of the many companies that I have been into, what I generally find in most cases is that they have the results of what's happening on the shop floor readily available thanks to all the new technologies they have put in place. However, managers are not going to the shop floor and seeing and confirming what's leading to those results. It is not a case of a lack of ability, but it is purely a case of them not going down to the site and not seeing things for themselves.
I don't believe you can fully manage the situation without going and seeing the situation for yourself. Yes, the data is really important, but you also need to incorporate going and seeing things with your own eyes. I think this is the difference between Toyota and many other companies.
As a supervisor, I have two team leaders in my team. What should be my approach when asking them about their (and their team's) performance to avoid them just saying "everything is fine"?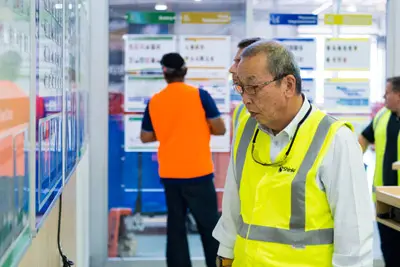 The best advice regarding this can be described in the two Japanese words of "genchi, genbutsu" or "actual place, actual thing" in English. What I mean by that is that you need to actually go to the work area and have conversations with your team leaders at the place of work. In doing so, when you ask them questions, if they are giving you a response which is clearly different from what you see in front you, you can point out to them on the spot that what they say to you doesn't seem to be right or looks different from what you see.
The problem is that when you have these conversations in a separate location from where it is actually happening, it is a lot harder to question and push back on those answers. As I said during my opening comment, accurate information won't always come out. And, depending on who and what position of people you are asking the question, the answer you get may vary. So, if you want to get an accurate response, it is best for you to have this type of conversation with your team leaders at the actual place of work.
When you get a response from your team leaders such as "everything is going well", I suspect there are two scenarios behind this answer. One is that they truly think that everything is going well. The other one is that they are taking you for a ride. When the latter is the case, the reason why they can get away with it often comes from the fact that they know you are not closely looking at the workplace to understand anything different from what they say to you.
The common issue that I see is that management is not looking at their own workplace closely and regularly to be able to understand that there are problems. They may argue that they go and see their workplace often, but in many cases, they are only touching the surface and they are not seeing the situation and hearing the information coming out of the workplace closely and deeply enough to be able to identify there are actually problems. And, when this problem continues where management are not looking at their workplace closely enough, they are overlooking and ignoring the problems that are there. When you keep ignoring the problems that are there, then this starts to become normal and once they are accepted as "normal", they are no longer a problem.
Personally, I also had this type of experience in the past. What I saw from this experience is that team leaders look at their manager or people above them and observe their reactions to assess what they can get away with. So, what I did in this situation was that in addition to having these conversations with them in the actual work area, I made sure that I went to the work area and checked things in earnest with my own eyes and confirmed the necessary information in my head before I had these conversations with them, rather than going fresh to the workplace and talking with the team leader and seeing things with my own eyes for the first time.
You will find that people working below you will try things on you to see what they can get away with. However, when you show them repeatedly that they cannot get away with something, they will learn that they cannot get away with false information or stories. When they are aware that you always check things for yourself before you talk to them, they will start to give you accurate information.
In summary, there are two things that managers should be conscious of. One is that, as I mentioned earlier, they need to observe their team more closely and more often. The other is to build a level of trust between themselves and those below them. Building on that level of trust is a very important part of success. As I always say, reflect back on the parent-child relationship and develop a relationship of trust between yourself and those below you. When your team leaders do well, pat them on the back but when they do something out of line, bring them back in line by telling them off and communicating your expectations to them. These are something that you need to be conscious of throughout your career as you move up through the organization.
In general, do you have a preference for cell-based production or production lines for assembly operations? When do you favor one over the other?
With regards to cell-based and line-based production, each one has both merits and demerits. Rather than there being a clear answer as to which is best over the other generally, the environment and the conditions which you are producing within will determine which one is better than the other. In the end, regardless of which approach you would be taking, your objective behind using one over the other is to achieve increased efficiency.
A common example I can give you is around vehicle production. In terms of the final assembly of vehicles, they are usually performed on lines in a one-piece-flow manner. But as for the parts and components supplied into those assembly lines from parts makers, a lot of those parts are produced in a cell production set up. One thing that can determine whether you produce your product in a cell or line is the size of the product. So, as for those parts manufacturers that I have just mentioned, aside from some components such as those the size of an engine, they are generally producing smaller components and parts. And, the size of what they are working with tends towards a cell production environment. However, within that cell itself, you can still achieve one-piece-flow and have a small production line even within a cell environment.
As a general rule, a key determining factor between the two is the size of the product you are working with. However, in addition to that, you need to consider the number of parts that are coming together to form the product as well. For example, when you are producing a large product and lots of parts and components are supplied into the work area to be assembled to create the product, probably a production line is a more suitable approach to the situation. Whereas for producing smaller products with a smaller number of parts, cell production is generally more appropriate.
But, you also need to consider the down-stream and up-stream processes as well. For example, with cell production, you need to be considering the information coming from the down-stream process. If the communication with the down-stream process is not maintained properly, you will be creating lots of inventory. If you are not careful, you will be producing a lot of components that are not required by your customer at that moment. Therefore, with cell production, it is important for you to maintain good communication with the latter process, and you produce your products in a coordinated and linked manner with the down-stream process.
As I said at the beginning of answering this question, you need to pursue efficiency with both production approaches. Therefore, at the exit of a line or at the end of a cell, you need to be able to understand your efficiency numbers around the operational availability as well as labor efficiency. And, based around those numbers, you can make a determination as to which approach would be more efficient for what you are dealing with.
In summary, with either case, you need to produce your products with a good flow, ideally in a one-piece-flow manner and you also need to look at the results at the exit of the line or cell to understand which provides the most efficient performance. What I have just explained was a general approach around the question but as I said at the beginning of my answer, the specific condition and the environment of the company particularly around the volume of what is being manufactured would be important factors to determine the overall approach.
#AskSensei is a regularly-scheduled webinar held together with Shinka Management Senior Lean Consultant Akinori Hyodo, who formerly enjoyed a career with Toyota rising from operator and team leader at Toyota, right up to factory manager and director of Toyota's HiAce Factory. Each event we cover a different topic related to lean manufacturing, with participants invited to put their questions to Hyodo Sensei.
To be notified of up-coming #AskSensei webinars and other events, sign up to our eNews mailing list at the bottom of this page.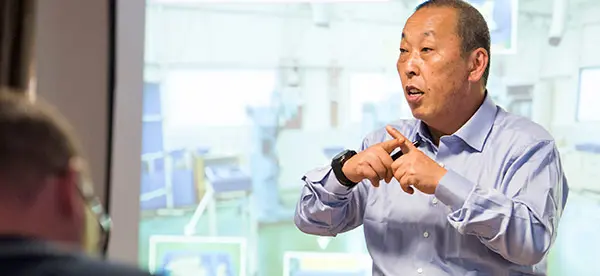 Up-coming #AskSensei Events and Registration
For further information about the #AskSensei webinar series, please refer to our #AskSensei overview page.