The Importance of 5S | The fifth S – Shitsuke (Sustain)
Akinori Hyodo, former Factory Manager, Toyota HiAce Factory | #AskSensei Event 17 Summary

During the final session of the five-part #AskSensei series on 5S, Akinori Hyodo discusses the importance of standardization and training that form the basis of the fifth S stage of shitsuke or sustain. Hyodo Sensei also reiterates the crucial role top management plays in driving good practices and creating a positive culture around 5S within an organization.
Fifth S of 5S – Shitsuske (Sustain)
Today we are going to talk about the final S of shitsuke or sustain in 5S. Starting off with the definition, the fifth S is about setting things up so that everyone can continually implement 5S in their work environment. What is important in this stage is not only to have standards in place but also that we train people to these standards. So, when we talk about the fifth S of shitsuke or sustain, we describe it as being about standardization and training.
What's important about standardization is deciding the level of standard that you want your team to achieve. This is especially the case for those who are higher up in the organization. They need to be clear about what level of 5S standard they want their organization to reach. Once the standard and the level of 5S they want to achieve have been decided by those higher up in the organization, those lower down in the organization need to receive the education and training around what those standards are. That's why the training is also an important part of the fifth S of shitsuke or sustain.
As I always point out, those employees who are at the lower end of the organization are the ones who implement 5S activities on a daily basis. But, many of them are not going to follow these standards and reach the expected level of 5S just by being told what to do. So, management must guide them by educating them and following up on them to make sure they are going in the right direction. But, what is also critically important is that management needs to be setting a good example and showing the way for the rest of the organization. As I often explain this in terms of a parent-child relationship, a child doesn't really engage or respond well if you as the parent just tell the child to do something. Children are observing their parents all the time to see how they are setting good examples and showing the way and children change their behavior by following the behavior of their parents.
Just like with anything else, you can't expect everyone to be on board with 5S from day one and carrying things out to the level you expect. However, through the continual practice of management showing the way and setting a good example to the rest of the organization, you will gradually get everyone on board in the organization to be following 5S.
The important thing is that you need to continually show that good example to the people in your organization. At the very beginning, some of those in your organization may not respond positively. But, just because you are not getting the engagement or buy in from some of your employees, it's not a reason for you to give up. This is not something you should give up on easily. You need to be disciplined to continue showing the way. You also need to do each thing that you are doing regarding 5S thoroughly and seriously so that you are showing a good example for the rest of your organization.
5S is something that can take a long period of time to take root. It can take several months, a year or even a few years before you start to see real positive change. However, through management being disciplined in showing that good example over an extended period of time, you are going to see gradual change from the rest of your organization.
As I mentioned that the fifth S can be defined based around standardization and training, let me get into a little bit more about each one of those.
I am sure many of you are familiar with the concept of standardization but let me touch on this again here. Standardization means setting things up such that anyone is able to perform the same work and get the same result as anyone else that follows the same rules and procedures set in place as standards. Also included in the meaning of standardization is maintaining the state of being able to perform the work consistently. Standardization is a critical requirement for people to be able to perform their job well and efficiently.
But, when you look around, there are various examples out there of people and companies not maintaining the standards well. Many of them are not reviewing or updating the standards or rules once they are established. Once they are put in place, they are left as they are over a long time. But, as we want to be continually improving, we need to be reviewing the standards that we have in place on a regular basis and this is the work of management and supervision. Those higher in the organization must be looking at the standards set in place and update those standards and rules to further improve.
The next point I want to touch on is training. A common mistake that we often come across regarding training is that people going through training are only being told what to do and shown how to perform the work. But, how training should really work is that you work with someone until he/she is able to perform the work on their own consistently at the required level.
Something else that is also mistaken regarding training is that you will be training someone and if the person doesn't quite get to the level required to perform the job, the trainer often gets frustrated and says to the person being trained that he/she is no good and the blame is placed onto the trainee. However, when the trainee is trying to do his or her best to perform the work as the trainer has explained it but is somehow not getting it right or is unable to do it well, the trainer has to question why this is the case. The fact that the trainee cannot perform the work well is a phenomenon. And, as I always say, behind every phenomenon there is a reason or a cause for the phenomenon to take place. That's why what needs to be explored is the reason why the trainee is unable to learn and perform the work well. It could be the trainer who is the problem in this situation. So, when you come across a situation like I have described, always consider what is the contributing factor for it and make changes and improvements to the point where the trainee is able to finally perform the work to the required level. What's really important for trainers to do when providing training is to carefully observe the work of the trainee and identify where the problems are so as to address those improvement opportunities and following up on those points again.
As we reach the end of our 5S series today, I wish to reinforce my message around 5S to you all. As I said a few times during the series, 5S provides a really important foundation for your organization. This will enable your organization to implement a higher and more complex level of improvement. As I often say, even without doing anything else regarding lean, if you thoroughly implement 5S within your organization, you will be able to see quite spectacular changes and results coming out of that. Through 5S, you are able to visualize problems. Unless you are able to see where and what your problems are, you will not be able to link them with genuine kaizen or improvements. That is why 5S is a critical foundation to have in your organization.
When people are trying to understand what lean is and to implement lean, it can be a lot to take in and it may be difficult for everyone to fully understand. So, 5S is a great way to begin your improvement journey. In addition, when a company tries to implement lean without having a good foundation of 5S to begin with, the company typically fails at their attempt to implement lean. Having 5S as a strong base will help towards the successful implementation of lean.
However, this also depends on how those at the very top of the organization think about 5S, what they want to achieve through 5S, the level of 5S they want to reach as well as how the 5S thinking filters through right down to the bottom of the organization. The success of 5S and lean will certainly depend on how top management considers each of these points.
I can assure you that you will start to see positive change once you and your organization start to make good efforts around 5S implementation and work at it thoroughly and continuously. I wish everyone the best for the thorough and successful implementation of 5S!
Maintaining 5S is the most challenging thing for companies outside Toyota. But in Toyota, it seems to work. What is the "secret"?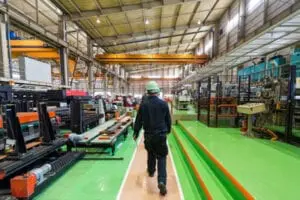 The first thing that you need to do is to change that thinking. It is not because of being Toyota that they can implement 5S so well. All companies are companies in their own right and they all have the same and similar opportunity to be successful in the implementation of 5S. So, we shouldn't forget that we are all coming from the same base.
In any company that is trying to achieve something, success is determined by how those at the top of the organization view it and their vision to have that implemented through to the rest of the organization. I would consider 5S as being another theme or agenda that a company is trying to implement or achieve, and it all comes down to how the top management sees it and follows up on it. So, I don't see much difference between 5S and anything else that a company is trying to achieve.
Let me ask you a question. If you find some rubbish on your house floor, what do you do? Would you pick it up? I am sure most of us would want to pick that up and dispose it but why is this? This is because we all want to keep our home environment clean and tidy and that is the expectation you have developed over time. Generally speaking, we also have set locations in our home where we store certain items. All these practices we do at home lead to a comfortable home life. As I often point out, the same thinking should be applied at your workplace too. But, why is it that we don't have the same feeling or urge to take similar 5S actions when we are at work? We need to link these two environments. It is not that we don't have the ability to do those things but we just haven't transferred that thinking to work.
As far as Toyota is concerned regarding 5S, the company now has a culture where employees are naturally practicing 5S in their workplace every day. If someone sees something fallen on the ground, the person will pick it up. If something is out of place or misplaced, people put it back to where it should belong. This is the natural culture that exists in Toyota today. But, it hasn't been always like this. How it got to where it is now is a result of the top management pushing 5S throughout the company and following up over many years.
In order to sustain 5S, we have been implementing 5S audits in our company by the area owners first and then conducting cross audits later. I would like to know your thoughts on this type of practice.
Reading what you have described, what you are doing around 5S is not a wrong approach at all. But, what I would like you to be careful of in this situation is that you make sure you don't make the process of auditing the objective of the cross audit itself. So, please ensure that you are not running the cross audits for the sake of auditing.
You can also expand on the audits you do to incorporate things like a reward or recognition system through which good efforts being made by your employees are properly appreciated and recognized. For example, those achieving good results out of audits can be rewarded with a certificate, etc. Another point you could consider incorporating is that the cross audits don't necessarily have to be done only by management. They can also be done by other team members from different areas. This would provide them with a great opportunity to see other work areas and learn from those other work areas and pick up on the ideas to take back to their own work areas.
So, having a clear objective as to what you are trying to achieve through the cross audits is really important and involving the team members would also help you achieve the objective that you are trying to achieve in this situation.
If you could come up with the desired outcome of 5S in one sentence, what would it be? How would you sell 5S to leaders?
Regarding the questions like this, first of all, I must stress the point that the direction shouldn't be bottom-up but always top-down. 5S is something that needs to be top-down and spread across the organization from the top. In terms of the desired outcome of 5S, bluntly put, in the end it is all to do with the profit that the company can generate. This is because having a solid 5S foundation enables your company to do so many other things and other aspects of lean within your organization. So, the success of the company and the profit that the company can generate is resting on the foundation of 5S.
When you implement 5S, you have a visual workplace where you can recognize issues. When you recognize issues, you can implement kaizen to address these issues. Once improvements are made through those kaizen solutions, you will start to see some positive changes and outcomes for your company. When positive changes and outcomes are being felt within your company, they can be reflected in your company's profit.
In addition, by establishing and implementing 5S, you are also creating a more comfortable and safer work environment for everyone within your company. When you have a comfortable and safe workplace for your employees, the company can produce quality products at a lower cost. Again, this can be reflected in your company's profit.
So, it bewilders me why top management struggles to see the benefit of 5S when 5S has a direct link to company profit. What I have just described are all the great benefits that come out of establishing and implementing 5S and the key benefit or selling point is, as I have just touched upon, the profitability of the company. I wonder what type of top manager would not be interested in generating more profit. When you are running a business, you are not running a volunteer organization. A company usually employs a number of workers working for them and top management has the responsibility to look after the lives of those employees working for the company, i.e., keeping those people in a job. So, the company needs to keep generating profits in order to guarantee the work and the lifestyle of those people working within the organization.
That's why, it needs to come from the top. As I repeatedly say, the role of top management is to set a good example and show the way for the rest of the organization. So, we have to be clear that 5S and lean leadership are not bottom-up exercises. If there is someone who can direct 5S as a bottom-up exercise with the person being at the bottom of the organization, then in my opinion, that person has to replace the person at the top as 5S needs to be led from the top.
#AskSensei is a regularly-scheduled webinar held together with Shinka Management Senior Lean Consultant Akinori Hyodo, who formerly enjoyed a career with Toyota rising from operator and team leader at Toyota, right up to factory manager and director of Toyota's HiAce Factory. Each event we cover a different topic related to lean, with participants invited to put their questions to Hyodo Sensei.
To be notified of up-coming #AskSensei webinars and other events, sign up to our eNews mailing list at the bottom of this page.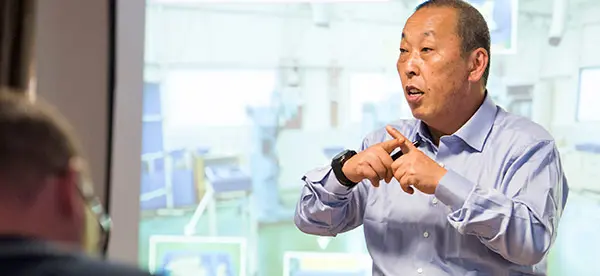 Up-coming #AskSensei Events and Registration
For further information about the #AskSensei webinar series, please refer to our #AskSensei overview page.