The Role of Top Management in the Lean Journey
Akinori Hyodo, former Factory Manager, Toyota HiAce Factory | #AskSensei Event 6 Summary

Leadership from top management is the key in determining the success of an organization's lean journey. But, how should they approach this vital task? We explore the role of top management and delve into the question of how they should take the lead in their lean journey.
What is the Role of Top Management in the Lean Journey?
Today's theme is the role of top management in the lean journey. What we all want to achieve on a lean journey is to drive change within our company. On this journey, the top of the organization always needs to be looking towards the future as to where they want their organization to be.
This is often referred to as a mid-term or long-term plan. The top of the organization needs to be looking five years and 10 years ahead and picturing where their organization will be in that time frame. Something important in achieving this is to put those thoughts into a picture, into something that is visual.
In that picture, you will have the vision of where you want to be after five years' and 10 years' time but also the steps that your organization needs to take in order to achieve that target. Those steps form your strategy as to how you will reach the future state where you wish your company to be.
Once the leadership has thought this through and made a decision on the direction they will take, then this needs to be communicated through to the rest of the organization from top to bottom.
Because an organization has a structure of people such as department, sections and teams, the strategies need to be deployed down through the organization into the different levels within the company structure.
Once you go through this process, then it is a matter of triggering and implementing these strategies. But what is most important is to make sure to follow up and check the progress of these strategies to achieve the target.
The frequency of these checks depends on what the actual strategy is and where it is within the organization. It may be weekly, monthly, once every three months, every half a year or even once a year. But, regardless of the frequency, these checks are the ones that would ensure things are moving ahead as planned and if there are any problems, support can be provided to overcome those problems.
Regarding the role of top management in a lean journey, what is really important for them is to take this process seriously. As they are sitting at the top of the deployment of the lean strategy through their organization, they are in a very important position to oversee the progress and to follow up.
However, based on my experience, there are many companies around the world that fail to take this approach of checking and following up seriously.
When we start a lean transformation, we do this because we want our company to improve. We want to make a positive change. So, in order for us to see and confirm that change is occurring, it is imperative for us to be checking and following up to see if the progress is actually being made. Therefore, the real question is how we can make sure of this.
In summary, top management first need to create the picture of the company's medium to long-term goal as to where they want their company to be in the future. This is because those below them need to be shown the company's strategies clearly – rather than just being told – to be on the same page. I always find that something visual to talk from but also for people to refer to is a great communication tool to get the important message down to the lower levels of the organization. Once the communication is done properly, they must check and follow up to make sure those strategies are implemented and progressing in the right direction.
Simply put, those two points are what the top management need to do in leading a lean transformation within their company.
When commencing a lean journey, do you need to start form the CEO or can it be upper management?
What I have just referred to as the "top" position in my opening remarks can be described as the "CEO" as it is referred to in this question. The top management of an organization needs to determine where the organization needs to be in the future and determine what their strategy will be, and then deploy the strategy down to the next level – the upper management level as described in this question.
The role of upper management then is to turn that strategy into something that is tangible. They need to turn it into some activities that would lead to positive results. However, as upper management cannot do it all by themselves, they also need their teams below them to assist them in implementing the strategy.
As this is the case, the upper management would take a leading role in driving and implementing lean and this would be an appropriate approach. However, as I said earlier, the direction must come from the very top of the organization and the rest of the organization needs to get on board with implementing the strategy to achieve the top's vision of making the organization better.
Having said that, we see sometimes that CEOs detach themselves from this process and leave all of it to middle management and those below them. This is not how it works. What you must be careful of with this message is that the CEO needs to be doing the checking and following up to ensure that things are moving along in the right direction as planned.
Once a vision is set as a company, everyone must be sharing the same goal. As this is the case, there must be a direct line from the CEO right down through to the rest of the organization. Every level of the organization needs to work together to align with the strategy coming from the very top. So, each level needs to be checking how their individual departments, sections and teams are all progressing against that strategy.
Upper management need to lead the strategy by showing the way and setting the example for the rest of the organization with the above-mentioned in mind. It is an important part of their role as upper management.
Another point you need to be careful of is that all upper management levels from every department must be involved and work together towards achieving the company's vision. This journey needs to have every department on board and to be on the same page. If upper management only from a selected few departments are involved and working on this lean journey, there is something wrong with this picture. Everyone needs to be working together towards achieving the same strategy.
Are there any specific lean tools for top management that Hyodo Sensei recommends?
To put it simply, top management needs to understand where their company is currently at. As this is the case, the KPIs the organization is running on are important tools for them to be utilizing. But, the KPIs top management are looking at are different from what middle management are following. They don't need to be following everything that managers below them are using to run their part of their organization.
As far as top management is concerned, one of the most important KPIs is an indicator around profitability. On top of this, three key indicators that they need to be following are the ones around safety, quality and cost. They are the key indicators that top management must follow especially in but not limited to just the manufacturing sector.
To be more specific, in following safety for example, most organizations have some indicators around incidents. As for quality, paying attention to quality issues within their organization is of course very important but the key one that top management should be most interested in is the quality indicators around what actually reaches their customers and the ones that cause issues for the customers.
With regard to cost, one of the main cost factors is labor cost. In a manufacturing organization, for example, there is the factory side and the management side. Labor cost is regarded as more of a variable cost within the factory since the number of operators changes depending on the demand volume. Management-related labor cost is however generally regarded as a fixed cost as those numbers generally don't move around so much even when the demand volume changes.
However, considering management as a fixed cost can be a problem. A lot of companies around the world think about lean as something that is implemented only on the shop floor and try to implement lean only in their factories but not in the office in management.
However, lean does need to be implemented for management in offices as well. We can see this especially in times like these when Covid-19 hits our organization and our business volume drops off. If we only focus on reducing the labor cost on the factory side and not in the office, we will have a very top-heavy organization structure that we need to support. The organization structure will gradually become unstable and will likely fall over.
As this is the case, we often look at the ratio between fixed and variable costs. Top management should be looking at how efficiently the organization is achieving the work that has been allocated to its people within their structure and must reduce the ratio of fixed cost by applying improvement activities within their organization.
So, getting back to the question of what indicators top management need to be looking at, rather than focusing on too many KPIs – because I see issues out there that many top managers around the world are looking at too many KPIs – they need to bring down the number of the indicators they check on a regular basis to a smaller number and manage the business from those key ones.
The most important thing that needs to happen when top managers are following those indicators, however, is that they need to be confirming things with their own eyes and not just trusting what they are hearing or have been told. For them to go and confirm things directly with their own eyes is really important.
How would you suggest to involve top management on a lean journey as an outside consultant?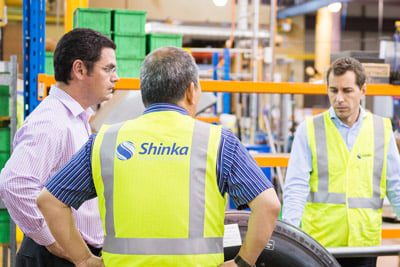 What I think is important for an outside consultant is to help the top management to grasp and understand the current situation and where things sit at present within their organization. Through this process, you will no doubt be able to expose and identify many issues for them. Share those issues with the top management as they may not have been fully aware of those issues previously. In doing so, they are going to have a want or desire to overcome those issues to improve their business. As an external consultant, you can then talk through with the top management the steps of using a lean approach to overcome those issues.
I believe most companies are already trying to do their best. I am sure they are doing what they do with the intention of doing their best. I don't think there are many companies out there that run their business half-heartedly. If the top management don't have any want or desire to improve their business to start with, there is unfortunately not much that can be done. But, as long as they have the will to improve their business, it's a matter of changing their awareness and how they look at their workplace differently through lean eyes.
And, the best way of changing the awareness of the top management is to go to their organization and go through their workplace with them to help them identify their issues. While exposing their issues, you must draw their attention to things that would help them develop their way of looking at their own workplace with a lean mindset.
Once problems are identified, you must be able to show them a way or a path to improve their business by using lean as a tool and suggest the possible outcomes of implementing lean by giving them specific examples such as, "you can improve this area by 30% and improve that indicator by 50%" etc.
When top management have the desire to improve, I am sure they would want to get themselves involved in the lean journey once you go through this process with them.
So, as a consultant, you always need to be working on and developing the ability to be able to look at a work area and be able to grasp the current situation and identify where the issues are within a short amount of time. You should be able to do this and communicate this to your clients after observing a workplace for as little as five to ten minutes.
But, remember, lean is just a tool that helps to overcome issues. After all, you may choose not to lead with lean in your discussions with top management. The most important thing is to make the top management aware of the many issues that they have and convince them that they can improve their business by getting themselves fully involved.
Can you explain the leadership genba walk process at Toyota and what are the important elements of it ?
There are several ways to conduct genba walks. Deciding when and for what purpose you are visiting and checking the shop floor will make a difference in how you conduct your genba walk.
For instance, knowing the issue that occurred the previous day, you will go straight to that area of the shop floor to check and ensure the smooth operation of the area. That's where you would focus.
But, when there are no issues that you need to pay particular attention to, your primary purpose of visiting the shop floor will be walking around the genba to observe the current state of the operation. However, as you don't always have the time to spend hours and hours on the shop floor, whenever you are down at the genba, you must always have a clear objective behind your being there. You can set an objective such as focusing particularly on quality or safety or checking on matters such as operator standard work, etc. So, you need to decide your focus area as well as the frequency of the visit to the shop floor based on your objectives.
Drawing from my own experience, what I used to do was try to go down to the shop floor and see the same area at the same time regularly. In doing so, I was able to see the change from the previous time I was there. It is easier for you to spot differences this way and those differences you may see can be issues.
In summary, my number one recommendation for you to be considering and doing when conducting a genba walk is to think through the objective behind it. The main purpose of genba walks is to confirm the current state of the genba with your own eyes. And, if you see a problem, you will follow it up by guiding your people to overcome the issue.
As for the important elements to be focusing on during your genba walks, as I said earlier, these are safety, quality and cost.
When you repeat this over and over, you will be able to see improvement within an area. Repeating this across the organization, you will be able to make improvements not only to your factory but also your company as a whole. Therefore, the ultimate objective of genba walks is making your company better and every genba walk you will make will lead to the ultimate objective of improving your company.
What should be the role of a Lean Department in a manufacturing plant?
The role of a Lean Department or Lean Support Section within an organization is to provide support for manufacturing. Therefore, as part of the support you are offering, you will need to try to acquire more knowledge, know-how and experience related to lean than those outside your department in order to lead your organization in the right direction.
To be honest with you, in a manufacturing plant that has progressed very well on its lean journey, a Lean Department is probably not necessary because their job has already been done. A Lean Department is necessary whilst an organization has yet to achieve lean maturity broadly across the organization.
As I said at the beginning, since the purpose of the Lean Department is to offer support, the department must manage its knowledge, know-how, man-hours and man-power to implement lean, and offer this to different parts of the organization. But, what you really need to be careful of is not to cross the line where the organization begins to think that implementation of lean is the role of the Lean Department alone. That's not healthy for the organization.
Essentially, every team of every area needs to be implementing lean by themselves and the Lean Department is simply there to provide support if they don't quite have the knowledge or know-how to proceed with lean and put the appropriate practices in place.
Based on the aforementioned, the Lean Department should not evaluate themselves based on their successful implementations of lean. Their value should be measured based on how much improvement was achieved in the manufacturing side as a direct result of the lean efforts made by those working in each area. The Lean Department shouldn't be saying, "we successfully implemented lean for them". It should always be about implementation of lean by each team and the Department should simply be there to help them to achieve good results.
Another point I should add about the Lean Department's role is that, they should take a central role when implementing lean across a larger organization with several different departments and sections. While those individual teams and sections within a large organization are naturally more aware of and focused on what's happening in their own area, those in the Lean Department can see right across the organization. As this is the case, they should act in that central position to support and coordinate lean implementation across the entire organization. In this instance, the Lean Department can act as a leader across the organization to promote lean.
However, in the former case of promoting lean within a specific team of an organization whether it is in manufacturing or wherever it may be, they should not assume a leadership position. They are just there to provide support and they should only insert themselves as a general member of that team.
Lastly, I wish to touch upon the third interesting point about the role of the Lean Department. Regarding the top management of an organization, they have a lot of information coming to them. However, they don't always hear everything. Given its function, the Lean Department is in the central position of the organization and they are able to see what's happening in each department and section and get a lot of information from across the entire organization. This puts them in a good position of seeing signs of potential issues that could become major issues later on. Therefore, the Lean Department can act as a communication channel to the top management highlighting those potential issues, etc.
To sum up, the Lean Department should be both a "popular" and "unpopular" department within their organization at the same time. On one hand, they are providing support and helping teams to create positive change within their company. But, they also have a role in the background as I have just described.
#AskSensei is a regularly-scheduled webinar held together with Shinka Management Lean Sensei and former Toyota HiAce Factory Manager and Director Akinori Hyodo. Each event we cover a different topic related to lean, with participants invited to put their questions to Hyodo Sensei.
To be notified of up-coming #AskSensei webinars and other events, sign up to our eNews mailing list at the bottom of this page.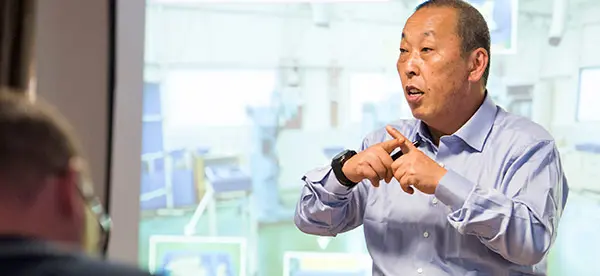 Up-coming #AskSensei Events and Registration
For further information about the #AskSensei webinar series, please refer to our #AskSensei overview page.