The Role of a Team Leader
Akinori Hyodo, former Factory Manager, Toyota HiAce Factory | #AskSensei Event 3 Summary

What is the role of a team leader? We discuss the importance of the team leader role and explore how a shop floor team can be structured and managed by looking at some of the great examples from Toyota in Japan.
What is the Role of a Team Leader?
Depending on a company's circumstances such as its size and the environment it is operating within, there will be some differences in the role of a team leader. So, what I would like to do is to reflect on an example from Toyota in Japan.
But, before I talk more about this, I should perhaps mention that the role of a team leader at least in Toyota is a ranked position, meaning that it is one of those supervisor level roles within the organization.
They are given a supervisory role within the company structure because it was deemed that this role is necessary within the overall organization to ensure the smooth operation of the production.
So, the role was established with a clear purpose and aim behind it and there is a list of responsibilities that comes with that role. The need for the position was there in the first place before the team leader role was established within the organization.
The scope of the team leader is set based on the size and environment of an organization. You need to reflect on this for your own organization to determine where the team leader role fits.
With regards to the role of a team leader within Toyota and their daily pattern of work, half of their role is around responsibilities relating to kaizen or continuous improvement and the other half is around what we refer to as maintaining the operation. As they are responsible for all those activities throughout the day, they are completely free of work directly on the line – that is, they don't do the work of an operator.
In terms of the team structure from a team leader level downwards, there are actually people in between the team leader and the operators. For example, as would be the case in your companies as well, operators take leave. When they take leave, unless there is someone who can fill in, there will be a delay in the production. So, within the structure of our team, we have somebody who is available to cover for an operator who is on, for example, annual leave.
An example of the Toyota shop floor team structure
This team structure is put in place with the assumption that the required production for the day is ensured. In addition, there are also various other targets that a team leader needs to be achieving. So, what they do is managing tasks, things, events etc. over the course of the day in order to make sure that their team fulfills all those tasks that are necessary for production. In order to be able to achieve those targets, team leaders need to focus on the problems that come up throughout the day. That's why I am saying that half of what they do throughout the day is kaizen, making improvements and addressing issues.
This was an example and reference for you from Toyota here in Japan. But, what you need to do is reflect on your own company's situation, size and needs and consider what the role needs to be of the team leader and what structure around them is necessary. Once you work this out, you must make sure this is clearly documented.
I gave the example of a team structure headed by a team leader today. However, as you go up through the organization from the team leaders onward to supervisors, managers, directors etc., while the scope of what they are managing increases, you must remember that the overall concept and the way of thinking around those positions are the same.
What is the best practice on how a team leader should split his/her time?
I will answer the question as a continuation from my opening discussion. As I said earlier, half of the team leaders' time is spent based around kaizen in the case of Toyota.
What the team leader needs to be doing from when they start in the morning until they leave in the afternoon must be decided by your organization as to what needs to be achieved based on your environment. But, as much as you might like to determine what exactly team leaders need to be doing throughout the day in terms of work steps and activities, when they actually start working for the day, there will be various unforeseen issues that can occur. So, you need to take this into account when you determine the work steps for team leaders.
But, what's probably more important than the team leader having set work tasks and activities that they need to be doing throughout the day is what people above them are doing. They also need to be following up on the issues to ensure that the team leader has what he/she needs to be able to solve the problems that arise throughout the shift.
I mentioned earlier what a team leader's work looks like – half of what they do is kaizen and the other half is maintaining the operation. But, when it comes to the role and responsibility of those above them in the manager class, one of the important aspects of their job is to follow up on the issues that the team leader is experiencing. If those managerial level people are not doing this, we would say that those people at that level are not required within their organization. Because if they are not following up, they are not doing their job properly.
In terms of how you can take a first step towards establishing a new team structure and defining the role of a team leader, rather than trying to get this perfect first time around, try to develop a draft team structure and a role of a team leader, and try to work with it and make necessary changes that suits your particular organization as you move forward.
Also, take time to work out how the team leader's time roughly need to be broken up throughout the day. When you come up with how the day is broken up, you will find that some portion of the daily work will most likely be made up of the tasks that need to be fulfilled on a daily basis no matter what. However, there may be a time when the team leader struggles to complete those imperative daily tasks because of some issues or certain incidents he/she has to deal with during the shift. This is where the levels up above them can be following up and supporting team leaders to enable them to achieve those "must-do" tasks for the day.
It's good to be having this discussion about the role of a team leader and how their day should be broken up. But, this same discussion needs to be taken up to the next level of the organization and the next level above that level and so on. You must also reflect on what their day should entail and what that should look like. If you are only focusing on the role of team leaders, your organization won't function properly.
What knowledge of industrial engineering (IE) tools does a team leader require in order to solve problems or improve operations?
I strongly encourage team leaders to learn and get to know how to use and implement (Toyota style) standard work and nurture the ability to see problems. Having said that, nobody can be equipped with these skills straight away. They are skills that need to be developed. So, you need to practice using them in order to develop them to an appropriate level.
You should also remember that these skills are not just for the team leader's level. Those above them, supervisor and manager level people within the organization, also have to have those skills in order to be able to instruct and guide those below them.
Another point is, although it is not related to IE tools, they should be developing an ability to use the skills of people around them since none of us are perfect at our work and in approaching problems. If you are lacking in one particular skill, then use someone who has that ability to help you to be able to complete the work or solve the problem. Right throughout the organization, you have people with different levels of ability. As this is the case, those who are at the management level need to know the members of their organization well. They must also have the ability to identify where a certain skill is lacking in people and once this is identified, give them a task or a problem to think through so that they can help those workers to develop that capability.
What is the role of the team leader in "8 Step Problem Solving"?
As I said earlier, there is a difference between the role of a team leader and an operator. From our perspective at Toyota, the role of an operator is to follow the work and rules that have been decided.
With regards to problem solving, this is the role of a team leader. Team leaders are the ones who have to come up with a solution to the problems that occur throughout the day. And, the "8 Step Problem Solving" approach is simply a path to get to that solution. Although, the process and approach to solving a problem is clearly stated in eight steps, not every problem you deal with will beautifully follow this process towards a solution. Unfortunately, things don't always work like this.
Certainly, following the steps stated here is important. But, the key role of a team leader is that he/she is continually looking at the workplace, and when a problem is found, the leader takes quick action against that problem. It is imperative for this initial fix to be in place first and then a certain process such as the 8 steps should be followed. If you jump straight into the 8 steps, it may take a week or so to be able to get through all that before addressing the problem.
So, getting back to the question of "8 Step Problem Solving", you should apply this approach to the type of problems that occur continuously and repeatedly despite the fact that several countermeasures and solutions have already been implemented. In this case, you can set aside a few months to run a project or campaign to attempt to really solve those problems to a point where they don't occur again. In this instance, going through and applying the eight steps will be very helpful to help clarify your thought process and approach.
For instance, the first step of the list states that you must "clarify the problem". But, in reality, when a problem pops up on the shop floor and the team leader sees the actual problem at the actual location where it occurred with his/her own eyes, the first step is already fulfilled anyway as the problem has already been recognized and clarified on the site.
That's why there needs to be a distinction between these two types of problems. There is a separation between those for quick fixes and those that you need to turn into a larger theme of an issue and work through as a project etc.
So, for those problems that pop up throughout the course of the day, team leaders need to take swift action to achieve a quick fix as they spot them. For this reason, it is also important for team leaders to be constantly and carefully monitoring and observing their work environment to be able to see problems.
As for the question and how it has been pitched, I would almost turn it the other way around. So, rather than asking "what is the role of the team leader in the 8 Step Problem Solving process", I would turn it around to "what is the role of 8 Step Problem Solving process in what the team leader does".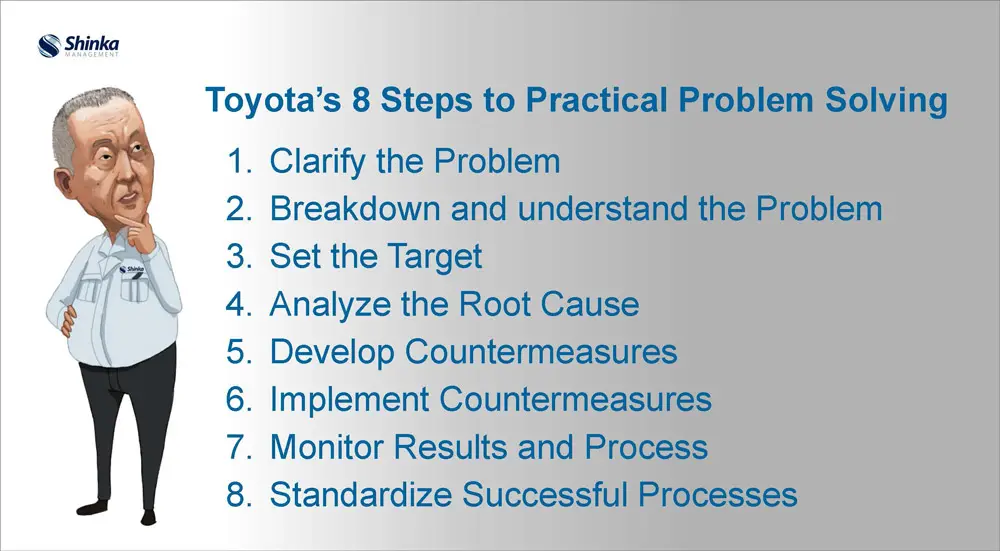 What shall we do as a leader if a worker does not want to follow the kaizen vision?
This question is something that comes up anywhere around the world. The reality is, out of a group of 10 people, there is almost always one or two people who don't quite engage in the vision and in what's need to be done from the beginning. But, when you have a group of 10 and seven or eight out of those 10 people are are pushing against the idea, then you have a real problem.
When this is the case, you must firstly ask yourself why this type of situation is occurring. In my opinion, there are two reasons. The first reason I would put forward is that the leader probably hasn't spent enough time and effort to explain to the team the reason and what type of activities need to be taken to achieve the set objective in order to gain their understanding. The second reason is likely to do with the overall relationship of the team that the leader is managing.
Based on my personal experience from when I was a team leader a long time ago, what I found most important was the daily communication with my team members and I needed to have a real good balance between praising them and correcting and guiding them. There needs to be a correct balance between the two.
If you don't have good communication within your team to start with, it will be difficult for you to get their buy-in when you put a kaizen vision in front of them.
So, the approach to deal with this type of problem is similar to approaching any problem you have within your organization. There is always a root cause behind the problem you are facing. Therefore, you need to develop an understanding of what that root cause is if your team members are not following the kaizen vision you put forward.
You must also take into account that every person is different. Within a team of 10 people, for example, you will have different personalities and different skills. While you may have somebody who likes to use their head and to write things up, you may also have somebody who prefers to be active in a physical way. So, team leaders need to understand the abilities of their team members well and involve them by taking these points into consideration. I think the key that I found to get the connection with people on a daily basis is to understand those strengths and weaknesses in them and work with them to help them with their weaknesses.
Having said all this, what I don't want you to get confused about in this discussion in terms of the role of operators is that their primary duty is not implementing kaizen but to perform their work and their set tasks properly. Any kaizen they do is extra on top of the work they are meant to follow and perform. As I repeatedly say, to find problems and implement kaizen to counter them is the role of team leaders and those who are above them. In our thinking, since team leaders cannot necessarily see everything that is happening on the shop floor, they ask the operators to provide their feedback so that team leaders can develop an improvement. Based on this thinking, team leaders extract ideas from their operators.
If you just demand that operators propose ideas but don't follow up with them properly or reject them straight away, they will back off and not be so forthcoming with their ideas any more. So, rather than simply asking them to give some ideas and taking this for granted, we should feel thankful to them when they give us their kaizen ideas.
For this reason, it is also worth considering as a company how to incentivize those ideas and have a scheme in place where the company can give back to their operators with a small token of thanks for any ideas they have.
What should a manager pay attention to, and how frequently, to determine if a team leader is doing a good job?
As I have been saying, it gets back to clarifying not only the role of a team leader but also the role of the manager and what is expected of them in their role.
Since the team leader is managing the daily production within the team, I think what the manager should be interested in is the results the team leader is producing against the targets set throughout the day. As such, the answer is not necessary to do with how frequently managers should be checking on the team leader, but instead, checking on the outcome of what's being achieved against the set targets.
Another important role of the manager in terms of supervising the team leader is to understand the amount of effort the team leader is putting into achieving the set targets. Therefore, in order for the manager to understand that, it's important for them to have the good awareness and be looking at the workplace of the team leader frequently.
If we all reflect on our experience seeing how team leaders work, there are not too many that are taking it easy through a shift. I believe they are generally already a hard-working individual in any given organization. But, if they are slightly off in terms of the efforts they are making and thinking through a problem etc. their managers must follow up to adjust what they are doing. If we face an issue of poor performance with a team leader, some of the responsibility obviously go to the team leader but not all is his/her fault. We tend to say that half or more than half of a team leaders' poor performance is the responsibility of those above them. That's why we always get back to the important principle of developing people, which is a key role of a manager.
#AskSensei is a regularly-scheduled webinar held together with Shinka Management Senior Consultant and former Toyota HiAce Factory Manager and Director Akinori Hyodo. Each event we cover a different topic related to lean, with participants invited to put their questions to Hyodo Sensei.
To be notified of up-coming #AskSensei webinars and other events, sign up to our eNews mailing list at the bottom of this page.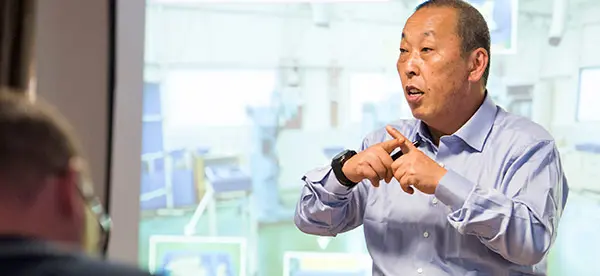 Up-coming #AskSensei Events and Registration
For further information about the #AskSensei webinar series, please refer to our #AskSensei overview page.