Leading a Lean Journey
Akinori Hyodo, former Factory Manager, Toyota HiAce Factory | #AskSensei Event 2 Summary

Leading a lean journey and establishing a culture of continuous improvement within your organization can be challenging, yet the rewards of success are well-worth the effort. In this lecture and Q&A session, Akinori Hyodo shared with us his advice as to how to lead a successful lean journey within an organization.
What are Best Practices for Leading a Lean Journey?
In order to successfully lead a lean journey, you have to remember that lean is only one of the many tools at your disposal. What you need to thoroughly reflect on first is the objective behind implementing lean in the first place.
I think all of us have had the experience of being involved with a company suffering from many issues, and we want to improve the company by solving those issues. Lean is one of the tools available that we can apply to those problems to solve them, but there needs to be thorough consideration around how best to implement lean to achieve the objective.
A crucial role in the organization in successfully implementing lean is top management. How top management perceives the issues that are within the business is an important part of continued success. However, they also need to be able to understand the nature of those issues clearly and drive the resolutions to those issues through the business.
It is important to recognize that implementation of lean and resolution of problems throughout an organization isn't something that can be achieved by only one or two people. It's going to require the whole company to be involved with the lean journey. Many people within the company have to be involved. An important step is to consider the right structure in order to implement lean.
I believe the really early step that you can take to make your lean journey a lot easier is to establish an appropriate organizational structure and create a section or a small team within the structure which is made up of individuals whose responsibility is to promote and drive lean initiatives throughout the organization.
Once you consider the structure, you also need to consider your rollout strategies and consider what your lean implementation strategies would look like. Once that is decided, there needs to be a messaging campaign to communicate the direction that the company is wishing to take right throughout the organization.
I think it's very easy for companies to default to having the lean journey just be focused within their factory and on their shop floor. However, you also need to consider all departments within a company and the roles of each department manager as well as the areas that they would be in charge of. You need to clarify what each manager and department role is within this system and also determine the responsibility they have for its implementation. And then, apply the basic approach of PDCA (Plan, Do, Check, Act), which I believe is a familiar concept for all of you, in the implementation of your lean strategy.
These are my initial thoughts on this topic.
What is the key to making sure that lean becomes a culture rather than a one-time project?
Something that I would like to throw back to you all to think about is how culture is actually developed or born in the first place. In my opinion, culture comes out of a way of doing things continually to the point where it becomes second nature. But, we see so many examples around us of a campaign or project being implemented but stopping at some point and not becoming part of a company's culture.
If everything works out to be perfect in those projects and in the application of lean strategies, I am sure people will happily continue with what they are doing. But not everything works perfectly in reality. We all face hurdles and challenges in implementing these concepts.
The question is, what will you do at that point where you face a hurdle? Do you quit there? Unfortunately I see many companies quitting easily in this way. As I always say, there is no such thing as perfect. There will always be difficult moments and times. But, there is an opportunity for you in that moment to reflect on the challenges you faced and think about why things happened as they did. Reflect on the cause and the reason behind that occurring. With this reflection, you can address the situation and fix the problem. You will find that addressing those difficulties repeatedly will actually assist in the continuation of what you are trying to implement. So, continuation is the key to success and that's what I want you to do in order to establish and sustain lean as part of your culture.
What is the role of a factory manager in leading change and sustaining a new internal culture?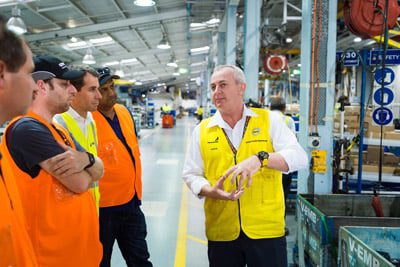 Firstly, let me ask you who changes the culture of a company or a factory? Who is it that drives that change? It should all come from the top of the organization. The change in culture has to come from the top. Those at the top of the organization need to communicate their ideas and objectives clearly with those who are underneath them and lead them in the right direction by setting a good example and translating those ideas and objectives into action themselves. Repeating this again and again from the top of the organization is the key to changing the culture within an organization.
How much does the Japanese culture embedded from your education system impact on the success of lean?
Only when I get asked this type of question do I think back to schooling in Japan. Personally, I am not sure about the excellence of the Japanese education system.
However, I can say that the Japanese are good at doing things in groups in general. When you try to implement lean and kaizen in a company, this involves all employees. It requires the cooperation of a lot of people. From this perspective, I can say that the Japanese education system could contribute to us being able to achieve those things well in a company. Everyone's schooling in Japan, having had a similar experience, may make things slightly easier for companies to implement lean.
Having said this, once people leave school and step outside into society, things can be quite different. Once people step outside, having an individual voice and opinion becomes increasingly important. In my opinion, people from overseas are much better at this than the Japanese are. I think Japanese people are poor at expressing themselves in comparison to those from overseas. Therefore, I believe it's important for us Japanese to develop this type of quality in ourselves rather than simply holding onto the values that were nurtured through our education.
After all, your background education is only a small part of what makes you as an individual. I believe that what really matters is what kind of individual you aspire to become once you step out into society.
What are the key indicators that you look for to determine whether a company has implemented a successful lean journey or culture?
In a nutshell, it comes down to whether the company is continuing to grow or not.
I am sure your organization already has various KPIs in place and you should be able to track changes in those. Are those indicators going up, down or horizontally? What do those indicators look like? You can see the results of those KPIs you already have in place to gauge your company's growth and success.
Another indicator is your company's overall profitability. As I always say, lean is a tool. You need to look at your results out of those indicators closely to see what the effect of implementing this tool has been on your lean journey.
What should we do to convince company executives of the benefits of running a lean journey?
As I always say, lean should not be a bottom-up effort, but instead driven from the top down. If you are starting down from the bottom of an organization and trying to get people's understanding, it's not always going to produce successful results. These things need to start at the top of the organization. In other words, unless the executives at the top of the organization have a proper understanding of lean, it's not going to be successful. Lean is not something for those at the bottom of the organization just to understand and deploy upward from their level.
What has been your biggest struggle in sustaining lean culture throughout your career at the Toyota HiAce factory and what did you learn from it?
In 2005, we had a full model change of the HiAce. Our factory was previously making small trucks, but those trucks usually had a model life of 7 to 10 years. So, there were a very limited number of people who had experience in full model changes. The expected quality level of a model such as the HiAce also went up quite considerably with the change. We needed to make sure that we successfully launched the new model while guaranteeing all the strict quality requirements. This was probably one of the most challenging times I had at the factory.
The thing is when you are in the heat of the moment and working really hard, you're not necessarily aware of what you are learning in the process. However, when you have the time to reflect on those periods afterwards, you start to pick up on those things. One key learning from that time was the importance of preparation. The detail in which we could map out and fine-tune our production process, and how thoroughly we could plan our production schedule, were so important. These were the real key to the successful launch.
I think this preparation thinking can be applied to many situations. I suspect that you all get caught up in meetings. How many hours do you usually spend in one meeting? If participants in those meetings did the necessary preparation beforehand, you will find that there wouldn't be any need to gather for more than 30 minutes at a time. But if people come unprepared and not ready for the meeting, you'll see those meetings drag out to be a few hours long. I learned that whether it's a meeting or various other things I deal with, the preparation that proceeds those moments is extremely important.
With regards to a suggestion box for improvements in the work area, should employees have a set weekly/monthly target?
I think it is good for companies to come up with their own approach regarding setting a target for their employees in terms of their expectations as to the number of ideas. But, as I said at the beginning today, it is important to carefully consider the roles that people play within the organization. In a well-operating system, of course, you will expect ideas coming from your operators. But, while we expect this out of our operators, we should be expecting more out of our management. This is because it's the management's responsibility to find problems and to solve them. In a well-operated kaizen system, you collect those ideas and extract problems from many of your operators and feed them up through to your management. Following that, it's really the responsibility of the management to make sure those things are followed up properly and put into place.
From my perspective, the role of the operators is to follow what has been asked of them from their leader and manager as well as to follow the rules that are in place for their work.
Getting back to the question, the target needs to be set for the team as a whole rather than just for individual operators. Their group leaders as well as the supervisors above those group leaders also need to be bound by the team's target. Therefore, the effort to fulfill the target also needs to be top-down, not bottom-up.
Do you teach employees principles for creating a visual workplace?
If I understand your question correctly, there are not so many principles we have for the operators to apply to visual management. This is more of a focus at the leader and management level. They have to decide what they are trying to achieve through visual management, and they can do this by accumulating the perspectives and ideas from those below them in their teams to understand what needs to be made visual.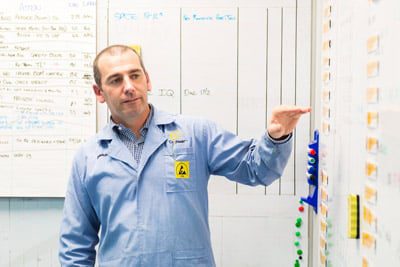 As I said, there are no set principles or rules in general. But, perhaps there is one example that I can draw on to address the question. We sometimes find it difficult to extract ideas from everyone and involve them in what we wish to achieve because of a gap in our thinking and what motivates different people of the organization, such as a generation gap between those like myself and others who are much younger. In this instance, we may run a project or something similar under a set theme for our employees to work on. We'll tell them what we want to achieve and ask how they would approach a particular situation. By giving them something to work on under a certain theme, we could raise the motivation for our employees.
What are the key ingredients of a lean roadmap?
As per my earlier comments, a lean roadmap is not something that can be implemented by just one or two people. Considering this, a key ingredient is to summarize and communicate the roadmap visually for everyone to understand clearly rather than just talking about the roadmap in words. Those words and the visual representation cover off the key thinking behind what needs to be achieved through the lean roadmap. The important parts after that are checking and following up on the implementation of the roadmap. The effort those at the top of the organization make to ensure progress is being made on the roadmap is crucial for its success. Those are the key ingredients I would put forward as my answer.
#AskSensei is a regularly-scheduled webinar held together with Shinka Management Senior Consultant and former Toyota HiAce Factory Manager and Director Akinori Hyodo. Each event we cover a different topic related to lean, with participants invited to put their questions to Hyodo Sensei.
To be notified of up-coming #AskSensei webinars and other events, sign up to our eNews mailing list at the bottom of this page.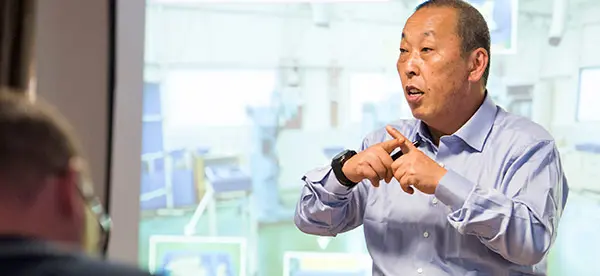 Up-coming #AskSensei Events and Registration
For further information about the #AskSensei webinar series, please refer to our #AskSensei overview page.