The Role of the Lean Consultant
Akinori Hyodo, former Factory Manager, Toyota HiAce Factory | #AskSensei Event 1 Summary

Why do some companies succeed with lean? Why do others fail? We explore these questions whilst considering the role that the lean consultant has in guiding companies on their lean journey.
What is the Role of the Lean Consultant?
As lean consultants, if we look at industry around the world, we can see many examples of companies, and may even have worked within companies, that have successfully implemented lean. But, when it comes to lean, there are successful companies and not so successful companies. I think the more common experience unfortunately is the less successful ones.
Why aren't these companies succeeding with lean?
What I see in common with many of these companies is that they haven't been developing their people as well as they could have. I always talk about lean being just one method and one approach. And we need to remember that those who use that method or tool are the people within your organization.
The challenge is how many people we can develop who can use this approach well. I think the very important role of a consultant is to be able to develop as many people as we can to understand and apply lean thinking.
Of course, there is a side of the company's business that needs to be considered as well. Achieving good results for the company through the application of lean is important. However, what I always say is that if you develop your people, then the results will naturally follow.
So, I consider an important role of the lean consultant is to talk through with a client how best to develop as many people within the organization as possible. I think this all begins with developing leaders within the organization, developing people who can lead and developing others more broadly throughout the organization.
So, how do we develop our people to be leaders? I think a key approach to developing our people is to put them in situations where they are thinking thoroughly through issues and through situations. In doing so, we need to first identify what type of qualities are necessary for leaders. You will need to think through as a consultant and with the client to determine what are the key attributes of good leaders that you will need to instill into these people.
Putting it simply, good leaders must be able to set a clear target and give their staff clear instructions and follow through properly what they have instructed their staff to achieve. Part of that is being able to formulate clear strategies and tactics to achieve the target they set out to achieve. They must be able to identify what are the steps that need to be taken in order to achieve the target.
As a consultant and when coaching and developing somebody, you need to be able to think through these steps yourself. You don't just want to say "do it" to make somebody go through the learning process, whilst not also doing it yourself. You want to actually think through those steps yourself as well to be an effective coach.
There are many other things that I can say on this topic, but these are the key points from my personal perspective. To summarize, I believe the key role of a consultant is to develop people.
What are the most important habits and characteristics of a great lean leader?
Before we talk about the important qualities of a lean leader, you need to reflect on the role – what is the role of a lean leader? This will help you understand what qualities are required to fulfill those roles as a lean leader.
I have just talked about providing a clear target and instructions, and following up with your people to check against their progress. In order to do so, they must also be able to, in relation to a target, create steps or form a strategy as to how they are going to achieve the target. The key is how thoroughly they can go through this cycle.
It's nice to be listing off all these things as good qualities and what's required, etc. But, particularly in the outset, there are not really many people with all those qualities and skills. So, what leaders need to be doing whilst they are developing people underneath them is to also be developing themselves to reach a greater skill level and ability regarding these topics.
What is Toyota's approach to lean training?
In Toyota, we train on a daily basis and provide people with problems on a daily basis to be thinking through. We repeat this constantly.
I am not sure what everyone's perception is of training or definition of training, but my experience within Toyota is that getting 10 or 20 people together in a room and going through a PowerPoint presentation would happen once a year or maybe not at all.
Instead, the approach of Toyota is to, on a daily basis, be providing problems and issues to people to think through and training them through providing them those problems and guiding them through those issues. That's our approach at most levels throughout the organization whether that's team leaders, supervisors, group leaders. That's our general definition of training.
Why haven't more companies around the world adopted Lean?
I think it really gets down to why you implement lean. What is the key thing which you want to achieve?
As I was saying earlier and as I always say, lean is just one of many methods and tools that one can use to achieve something. So, why do we implement lean? To put simply, it is to improve our companies. I think that is a common objective of most companies around the world. They want to improve, they want to grow as a company.
In order to improve and grow, there are many other types of approaches, methods and tools that you can utilize to go in that direction. Lean is one of those approaches.
But, if you just try to implement lean, there is no guarantee that things are going to get better. Take 5S for example, I am sure you are all familiar with this. I'd say if you were to just pick 5S, and thoroughly implement and focus on that, you will still see some great results.
Many companies already have their own approaches, have ways of doing things and they are already doing various aspects by following their own approaches. As this is the case, based on what I saw during my trips around the world, unfortunately, I don't think there are many companies who have taken the opportunity to really capture the benefits of implementing lean.
Reflecting on why that might be, my experience is out of Toyota and we work within a tight circle within Toyota as a group. So, I think it's a really important responsibility for us particularly as consultants that we have to be spreading the best way of implementing lean to our clients and getting more organizations around the world to understand it better and how they can use it to improve their own situations.
I don't think the real benefits of implementing lean thoroughly is understood or appreciated widely around the world. At the same time, I also think that there are a few of us who have the capability and skills to be able to guide and implement lean well within our clients and within companies, and spread it broadly to the benefit of industry.
As consultants, it's our great duty to be developing more organizations to benefit from lean, and of course I have been saying how we do that is through developing people within those organizations.
How is Toyota responding to changes in work practices owing to Covid-19?
An interesting consideration is that what industries need to think through and what government needs to think through in times like these are quite different.
There are two key things that we are all trying to achieve right now, no matter where we are, we are trying not to become infected with the virus and not to spread the virus.
The number of people actually testing positive for the coronavirus at the moment does not necessarily reflect the total number of people in society who have been infected. I think if you are showing symptoms, you could get checked and you may or may not have it. But, there are a lot of people in society who are not showing symptoms or showing minor symptoms and are not being checked. Yet, they are still out among us in our societies. So, contact between people needs to be avoided in our workplaces.
Something in Japan that may be a little different from many other countries is that the government actually cannot shut down society as has been achieved by multiple governments around the world. Our government cannot legally do that.
So, as much as the government is recommending and asking for cooperation in Japan in "not doing this" and "following that", in actual fact, if you do not follow the guidelines, the government cannot issue fines. They cannot force you to do anything to follow these guidelines. In the end, it gets back to individuals following, perhaps what you might refer to as Japanese cultural traits.
As for Toyota, manufacturing plants are still producing as per normal. Once the employees arrive at work, they are on company property and there is a responsibility for Toyota to take action accordingly to protect them. In the case of offices in Toyota, they will be using meeting rooms to further spread out desk locations whilst also encouraging staff to work from home as well.
In terms of Toyota employees traveling to work, we don't have factories located in the middle of metropolises like Tokyo. They are out in the countryside. So, most people are commuting by car rather than through packed trains. So, in terms of traveling to work in the first place, they haven't been exposed to many people in close quarters.
In the workplace, there are typical things that you would expect in terms of hygiene and raised hygiene awareness. Another thing is that business trips have been put on hold.
Our production volumes are set according to the demand from the market, and this has dropped due to the coronavirus. At Toyota, when the production volume drops, we reduce the number of people on our production lines accordingly. As such we have less people currently in our factories.
Together with this, although our company cannot enforce it, we have guidelines that the company asks employees to observe outside of work hours, such as not gathering in bars or in restaurants in close quarters with other people. So, that covers off the out of work hours also.
The concept of work at home has also been put forward as an important strategy. Bear in mind, this is not only the situation with Toyota, but generally across Japan. Currently, several prefectures in Japan are under the state of emergency. As such, it's a general recommendation that people only go out to do essential activities like visiting supermarkets, doctors etc., and this is being helped in any case as many other businesses have been closed during this time.
But, I could probably say with certainty that what we are experiencing in Japan is not as strict in terms of the restrictions that may be in place in many other countries at the moment. Again, it goes back to the Japanese government not having any power to lock down society, so instead they must rely on the cooperation of our citizens to follow these guidelines.
In recent times, Toyota has experienced at least two huge recalls. What do you think is responsible for this?
As I often mention, nothing is perfect. But, what we are seeing out of Toyota is another example of them striving for perfection. Of course, they are trying to avoid these situations where a recall is necessary through their general quality systems. But, I think what you are seeing is when something does occur, they are being very quick to take action in regards to those situations.
But, if you ask me who is responsible or where in the system the responsibility for these type of issues lies, it's always top management. That's the evidence that they are not doing the job well.
There are various examples – let me give one for you personally. When you catch a cold for example, you know it's going to take some time to overcome it and you need to be conscious when people are around you.
So, in order for us not to catch a cold, I think we are generally doing things and behaving in a way so that we won't get sick. In the case of cold, where the role of management, where they should be always focusing on is ensuring that we don't catch a cold. So, they take necessary actions beforehand by looking at the right things, asking the right questions so that people do not catch that cold. But, when we take our eye off of something, it can be easier for us to catch a cold.
So, leading back to the Toyota example of a recall or a breakdown, there is plenty of data together with KPIs within Toyota that they use to quickly understand where there is an issue to allow them to take action around that issue.
However, for that system to work it needs managers and people higher up in the organization to be looking at that data and looking for those issues.
Unfortunately though, there is no such thing as a perfect human being. We're not perfect at following information, looking at KPIs, finding issues and taking quick action accordingly. But, by paying close attentions to these points, we can recognize a trend most of the time, if not always, and we can take necessary actions accordingly. When we don't follow these things properly and don't take the appropriate action, these issues occur and recalls become necessary.
But, to put it in a nutshell, as I always say, where there is a problem, it's usually the case that management are not doing their job well.
#AskSensei is a regularly-scheduled webinar held together with Shinka Management Senior Consultant and former Toyota HiAce Factory Manager and Director Akinori Hyodo. Each event we cover a different topic related to lean, with participants invited to put their questions to Hyodo Sensei.
To be notified of up-coming #AskSensei webinars and other Shinka Management events, sign up to our eNews mailing list at the bottom of this page.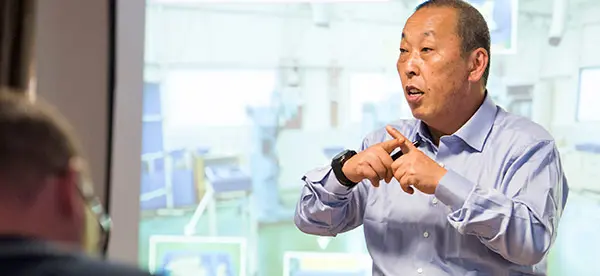 Up-coming #AskSensei Events and Registration
For further information about the #AskSensei webinar series, please refer to our #AskSensei overview page.