Two Fundamental Cultural Concepts You Should Understand before Entering the Japanese Market
Japan has significant business opportunities and is an excellent environment within which to do business. However, like any country, entering the Japanese market can also pose challenges.
Having prior knowledge about the national and business culture can help improve your prospects for building successful long-term business relationships. Japan has a collectivistic, high-context culture, and understanding this aspect of Japanese society is a useful first step in preparing to enter the Japanese market.
Cultural Background
When discussing cultural background, it is often useful to understand the difference between the two cultural dimensions of collectivism and individualism.

Individualistic cultures: value the needs and desires of each individual
Collectivistic cultures: emphasize the needs and desires of a group
Western societies tend to be individualistic, while East Asian societies are associated with collectivism. Japan strongly values harmony and is considered a collectivistic nation. Japanese prioritize social harmony and value group goals over individual goals. It helps to be sensitive to the unique culture influencing the behaviors of the Japanese, and it is crucial to break down cultural barriers to cultivate a tight relationship. When engaging with a collectivistic society such as Japan, knowing not to speak too much about oneself and to avoid expressing too many personal opinions is necessary. The Japanese tend to sacrifice individual happiness for the sake of the group, and may struggle when encountering overly individualistic cultural attitudes.
Communication Gaps
Following on from the introduction of the two cultural dimensions, a valuable concept to recognize is the distinction between high-context and low-context communication systems. It is necessary to understand the difference between these two communication systems to build successful relationships in Japan.
High-context cultures: tend to convey information indirectly
Examples include Japan, China, Spain and France.
Low-context cultures: tend to communicate information directly
Examples include Australia, United States and the United Kingdom.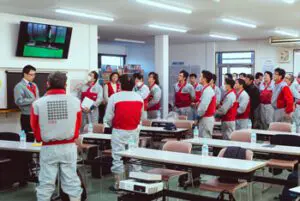 To maintain harmony, collectivists prefer to use indirect communication to avoid conflict or the risk of offending another person. In the case of Japan, with a very monocultural culture (over 98% of the population are ethnically Japanese), high-context communication has also flourished due to the vast majority of the population having similar upbringings, experiences and understandings of their environment. This tends to be more difficult in multicultural societies such as the United States where a more direct communication approach is necessary to avoid confusion and misunderstanding within a population comprising people of many different backgrounds and upbringings.
Related to this concept are the Japanese concepts of honne and tatemae (pronounced "hon' né" and "tah-te-ma-eh"). Understanding the differences between these communication approaches are invaluable when entering the Japanese market. Honne refers to one's true feelings, and tatemae is a behavior that one adopts in public. Mastering the two behaviors is essential to demonstrate proper social etiquette and maintain the harmony of a situation. For foreigners who are not accustomed to the culture, distinguishing between the two behaviors can be a challenge, however the first step in developing comprehension is to understand that these differences exist. Every culture has aspects of honne and tatemae. Even in the West, we don't tend to freely express our thoughts and feelings as we can easily offend or hurt someone. However, these concepts are known to be significant in Japanese culture, where they are employed widely to avoid conflict and maintain harmony – and can often lead to confusion and misunderstanding by those entering the Japanese market.
In addition to understanding communication styles, it is important to note the importance of trust within high-context cultures. The Japanese tend to attach a higher degree of significance to personal relationships, compared with communities from low-context cultures. Whilst trust is key to developing and maintaining successful relationships, building trust can be a challenge when there are vast differences in cultures.
Adding to the challenge is the Japanese tendency towards uncertainty avoidance. Uncertainty avoidance refers to the extent to which a society feels threatened by an unknown future and situations that are uncertain and unpredictable. In general, the Japanese people feel that the necessity of developing social bonds is vital. Therefore, having close trust enables Japanese people to decrease uncertainty about unknown situations in relationships as well. Make sure to make a conscious effort to build trust and demonstrate reliability to build long-term relationships with your Japanese counterparts.
Summary
Japan is a collectivistic society and emphasize the needs of a group as a whole. Group harmony is valued above individual desires, and the Japanese indirectly communicate information to avoid conflict that may arise.
An understanding of these central concepts fundamental to the national and business culture of Japan will help you pursue your business objectives and build successful relationships with the Japanese.
This article was written by Hannah Arai who completed a three-month internship at Shinka Management. Hannah is an undergraduate student currently studying International Business at the University of South Australia. She was born in Australia to Japanese parents and has been raised in a bi-cultural environment. Hannah speaks both English and Japanese and has developed a good awareness around intercultural communication.
Shinka Management delivers training programs and seminars on Japanese business etiquette and Japan business culture to help bridge the cultural and communication gap with Japan for improved business outcomes. This includes support for both local staff and Japanese expatriates of Japanese companies, and support for local companies considering or conducting business with Japan.