The Role of Standard Work in the Toyota Production System
Akinori Hyodo, former Factory Manager, Toyota HiAce Factory | #AskSensei Event 11 Summary

Standard work is regarded as a key foundation of the Toyota Production System. Operations where a high level of standard work is performed and maintained typically have strong results around efficiency, quality, cost and safety. Lean manufacturing sensei Akinori Hyodo, whose career with Toyota spanned 40 years, explains the importance of the role of standard work within Toyota and discusses how the level of precision of standard work can be improved.
What is the Role of Standard Work in the Toyota Production System?
I will be speaking about the role of standard work in the Toyota Production System (TPS) today. The concept of standard work based around the movement of people is fundamental to manufacturing within the Toyota group. We define the standard work in the Toyota group as the sequence of work that allows a process to be carried out in the most efficient manner with the least amount of waste while guaranteeing safety and quality.
Standard work is set up such that anybody should be able to perform the same job in the same way. The concept of standard work came about because there are many people working in a factory – I am sure this is the case in many of your factories as well.
When you have one hundred operators working in your factory, for example, they all have different background, experiences, thinking and approaches, etc. Since this is the case, what do you think happens when each one of those individuals performs their work how they themselves see fit? Have a think about this for a moment. If all those one hundred people perform their work all in their own way, do you think your company can guarantee quality? Can everybody perform the work with the same level of efficiency too? I don't think that's possible.
That is why the idea of standard work was developed. Standard work is a concept we can use to ensure all individuals doing the same work will complete the work with the same outcome. This is important because it is inevitable that individuals working in any workplace change over time.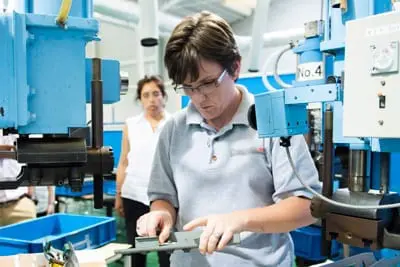 The level of precision of standard work in Toyota is quite high in the sense that we have applied kaizen improvements to our standard work over a long period of time. The reason why we do this is because we have an objective to supply quality products at a low cost in a timely manner to our customers.
Standard work in Toyota is, as I said earlier, based around the movement of people and it is guaranteeing safety, quality and efficiency within the work that people are performing. Across the Toyota group, where you find an operation with a high level of precision with their standard work, you will also find that these are the places with low levels of safety incidents and high levels of product quality. They are also producing at a lower cost due to the efficient nature of their work.
All of these are linking with the objective of producing a good quality product at a low cost and we use standard work as another tool that we have in the Toyota Production System to achieve these objectives.
Now the question comes as to who creates standard work. Work is something that the manager or the leader teaches and instructs individuals below them to do. The individuals who have been shown or told what to do should follow what they have been instructed by their superior. Therefore, the people who create standard work are those at the leader/manager level who will actually be teaching the standard work to those below them.
These leaders will create standard work and use that to train and direct their subordinates to perform the job they are assigned within their team. However, these leaders cannot be just creating the standard work and teaching it and saying to their subordinates, "okay, off you go and carry out your work now". They need to be following up with the individuals to ensure that they are continuing to follow the steps and procedures outlined in the standard work and what has been taught to them from the standard work.
If there is a problem and a difference between the work the operator performs and what is described in the standard work, the leader will intervene and solve the problem and the discrepancy through guiding and correcting the individual. They will repeat this process through follow ups.
In addition, during these follow ups, the manager may also identify that the operator is experiencing difficulty in performing some aspects of the work described in the standard work. When this happens, the manager will firstly check if they are following the standard work properly and then check if any improvements can be made to the standard work to make the situation easier for him/her to carry out the work.
Through repeating this process, the shop floor can increase the level of precision of standard work. As I said earlier, the work areas with a high level of precision with their standard works also have excellent levels of records around safety, quality and efficiency.
That's standard work in a nutshell. If you are in a manufacturing environment in particular, standard work is something that I would like you to thoroughly have a look at and thoroughly implement.
Apart from this, you must also have heard about another concept we refer to as "standardization". This concept of standardization is more often used in an office environment or a management environment. The idea of it is still to come up with a uniform approach such that anybody is able to carry out work in a standardized manner.
What is good about having standard work is also that people carrying out the work based on standard work develop a good rhythm within the work they are performing. Since the operators can carry out their work in a rhythmical manner, they won't tire anywhere near as quickly as they would without standard work in place.
Something that I would like you to try yourself is to go through ten cycles of work in two different ways. In the first instance, carry it out differently every single cycle. And then try it again another ten cycle by going through the same steps each time. You will find that the latter approach of following a standard is a much easier way to carry out the work and you won't tire yourself as easily.
So if you are a manufacturing operation in particular that doesn't have standard work in place, I'd encourage you to get the standard work happening and work away at improving the level of your standard work in your workplace over time. In doing so, I can assure you that your level of operation will drastically improve.
Note: When Hyodo Sensei refers to "standard work" here, it refers to a very specific concept that came out of the Toyota Production System. In English, people tend to throw around the term "standard work, standardized work, standardization, standard operating procedure (SOP)" etc. and use them interchangeably as though there isn't necessarily much of a difference between them. However, the concept Hyodo Sensei explaines here is a TPS-specific concept and this is different to what is loosely used in many other companies around the world as standardized work, SOP etc.
It is well known that Toyota has a high level of standardization and a high level of flexibility. How do these two go together?
When those who are at the supervisor, middle management upwards level are familiar with the shop floor and have a good understanding about the genba, it is easier to have flexibility in production. With regard to standardization, we first need a "standard" in place to use as a basis to perform our work. However, when issues arise and we realize that there needs to be an improvement, we make changes and improvements to that standard. Then, our standard changes as we create a new standard, and everyone then should be able to follow this new standard to perform their work accordingly.
With regard to the people who are making these changes to standard work, as I said earlier, they are at the team leader/supervisor level. It's not the operators who make these changes to their standard work. Therefore, once the new improved way of work is acknowledged to be the basis of how operators must work, that needs to be communicated amongst the team clearly and this is the responsibility of those at the team leader/supervisor level.
That's why it is important that those at that level of an organization are continually looking at the shop floor and have a close understanding of the genba. When a new standard work has been implemented and new improvements are made, it is crucial that they visit and check the work area regularly to make sure no problems are detected in the work area as a result of it. For this reason, as far as Toyota is concerned, those people at the team leader/supervisor level are always on the shop floor. This is all part of the role expected of a team leader or supervisor within Toyota.
There is no such thing as a perfect company. No matter what manufacturing company you are in, you are most likely to come across many issues every day when you are on the shop floor and Toyota isn't excluded from this either. But, what those levels of people of the organization in Toyota do is regularly go around the shop floor, and when they detect any issues and abnormalities, they are thoroughly checking and following up with them to be properly addressed. This management process we have in Toyota is an ongoing process and they continually repeat this again and again to make sure we are solving our problems. Thus, individuals who are the most confident of understanding their work area in Toyota are those at the team leader/supervisor level. They know their work area like the back of their own hand and they are very confident in their level of understanding of their genba.
Because of this, they can quickly spot where something has changed or some issues occurred. That is why they are very quick and flexible in their response to changes and they can work together with the team to respond to these changes quickly and flexibly.
Is standard work visually displayed at the point of use at Toyota plants?
The fundamental concept is to visualize these things. Although you may find factories within the Toyota group that may not visualize standard work depending on their particular circumstances, the basic premise is that they are visualized and kept at the area where the standard work is performed.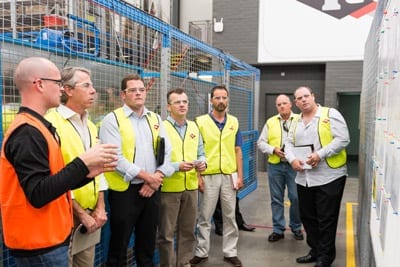 Then, what is the reason why we should be visualizing standard work? As I talked about earlier, standard work is created by those at the team leader/supervisor level within the organization. Therefore, the documents of standard work are management tools for team leaders to use within Toyota. However, since there are usually a large number of operators working in many different processes within a factory, and there are usually over a dozen operators working within a team, it is most likely to be the case that team leaders find it difficult to remember all the standard work created for each operator within his/her team. But, if they are visualized on the shop floor, it's useful as they can check very quickly what operators are actually doing in their work against their standard work documents such as the standard work chart, combination table, etc.
It is also useful to have them visually displayed out in the process for when others outside of the team and above the team are walking through the area. For instance, you may have a factory manager checking the area and looking at an operator thinking that something doesn't seem quite right with the operator. In this case, when you have the standard work visualized within the process, the factory manager can confirm easily whether the operator is following the standard work properly or not.
That is why many workplaces have standard work displayed out on the shop floor visually so that they can be utilized as their management tools.
What is the standard work audit process at Toyota?
As I outlined earlier, those at the team leader/supervisor level are the ones who check and follow up whether the operators within their team are performing the standard work properly in general.
What you have to be careful of here is that when you have an operator not following the standard work, you need to think through who's fault this is. What you mustn't do in this instance is to blame the operator. Through my experience, about 70 to 80 per cent of the issues around standard work and why operators cannot perform standard work are generally not the fault of operators at all, but rather the fault lies with their managers.
The fact that a problem has been highlighted through the operator not being able to follow the standard work is actually a good thing. When issues are brought up into the open, this means that further improvement opportunities are identified. So, you shouldn't be blaming the operator for performing the work wrong.
Just like quality inspections and audits add zero value, there is no value add in auditing standard work. So, it would be fantastic if we could trust every operator to do the standard work once they are trained. But, this is an ideal situation and it's not realistic, therefore we need to audit. And, if we find a problem, we improve it by fixing it to address the problem.
Therefore, I believe it is particularly the role of the team leader to regularly inspect the team's operation and ensure that operators are following the standard work, and when problems are identified, they must follow up by implementing improvements. It is important that team leaders are using the genchi, genbutsu approach of looking carefully at the shop floor and operators to identify problems. And, once problems are detected, they need to fix them, incorporate the fix into a new improved version of the standard work and train the team members to perform the new standard work. A constant repeat of this process will increase the level of precision of standard work and contribute to the improvement of their work area.
#AskSensei is a regularly-scheduled webinar held together with Shinka Management Senior Senior Lean Consultant and former Toyota HiAce Factory Manager and Director Akinori Hyodo. Each event we cover a different topic related to lean, with participants invited to put their questions to Hyodo Sensei.
To be notified of up-coming #AskSensei webinars and other events, sign up to our eNews mailing list at the bottom of this page.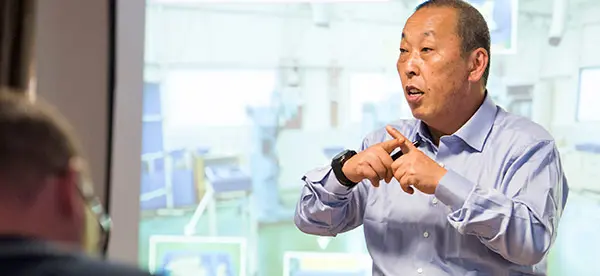 Up-coming #AskSensei Events and Registration
For further information about the #AskSensei webinar series, please refer to our #AskSensei overview page.