Redarc Electronics Factory Tour
On the afternoon of the 3rd of February 2014, 38 leaders of South Australian industry gathered in Lonsdale for a factory tour of Redarc Electronics.
The event was one of four organised in Australia in early 2014 by Shinka Management, with the Redarc tour held with the support of the Australian Industry Group under the banner of the South Australian Lean Manufacturing Special Interest Group.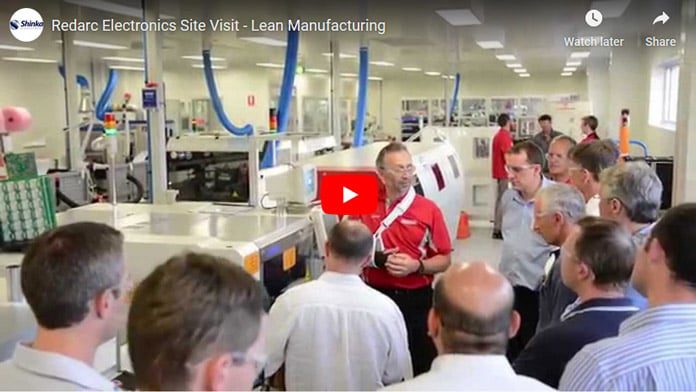 Redarc Electronics has over three decades of experience in designing and manufacturing electronic voltage converters and related products for commercial and recreational vehicles. The company is well known for its industry-leading range of inverters, battery chargers, power supplies and customised electronic modules.
The factory tour commenced with an introduction from Production Manager Shane Wreford on Redarc's management philosophy, quality control initiatives and production challenges.
Participants were divided into three groups for the site tour, visiting Engineering and R&D, Assembly and the Finished Goods Store. The factory tour included a visit to Redarc's Surface-mount technology facility, hosted by SMT Supervisor Johan Otto.
Innovation and focus on ensuring quality and customer satisfaction were evident in walking through the facility. A focus on right-first-time was highlighted, and the product flow achieved throughout the site ensured that any issues were immediately recognised and resolved. Use of visual management throughout the facility for both real-time and retrospective tracking of operations was impressive.
Shane and Johan were participants on the November 2013 Australian Industry Group Lean Japan Tour, and improvements made to their management processes and operations were highlighted during the visit. One improvement was showcased that enabled quicker picking of parts, an innovation adapted directly from a technique demonstrated during the Gifu Auto Body site visit.
Following the site visit, the focus of the event turned to the Lean Japan Tour held in November, with tour reports provided by South Australian tour participants.
Jeremy Hawkes, Managing Director of Bowhill Engineering, Thinus Steyn, Managing Director of ZF Lemforder Australia and Johan Otto of Redarc Electronics provided presentations on their experience and learnings from the lean study tour to Japan.
My perspective of how high the bar can go was definitely challenged by what we witnessed in Japan.
– Jeremy Hawkes, Managing Director, Bowhill Engineering
.
As a high mix low volume electronic manufacturer in Australia the challenges to survive are huge. We saw the lean tour as an opportunity to go to Japan and see how they reduce waste.
– Johan Otto, SMT Supervisor, Redarc Electronics
Thanks to Shane and the team at Redarc for their hospitality in hosting us, and to Jeremy, Johan and Thinus for their presentations. Photographs by Juan Photography.
The Redarc Site Tour was the first of four factory visits held around Australia in February and March 2014 to showcase learnings from last year's Lean Japan Tour. The other visits were held at Lion's Castlemaine Perkins Brewery in Brisbane, Kavanagh Industries in Sydney and REA Group in Melbourne. The next round of factory tours in Australia will be held in mid 2014.
To be notified of dates and locations, sign up for the Shinka Management mailing list or drop us a line. This year's Lean Japan Tours will be held in May and November – for further information see the lean study tours page.
Stay up-to-date with our activities, events and training by subscribing to our eNews.