Kavanagh Industries Sheet Metal Ducting Factory – Lean Job Shop Tour
Kavanagh Industries is a Western Sydney success story, specialising in the manufacture of sheet metal ducting. In February 2014, Managing Director Aidan Kavanagh invited members of the local lean community to join a factory tour of Kavanagh Industries' Smithfield facilities.
Kavanagh Industries is a family business that has grown to become Australia's leading sheet metal duct manufacturer. The company's 17,000 square metre Smithfield facility houses major equipment such as coil fed plasma cutters, automated straight duct lines, a spiral lock-seam round duct machine, and other automated cutting, turning and welding processes.
The Smithfield facility is set up to be as flexible as possible to cater for orders varying in type, size, shape, weight and material. The excellent application of lean thinking to a job shop environment was impressive, especially given that many companies use made-to-order production as an excuse as to why they can't achieve lean production.
In an environment where product type, specification, volume and fabrication time varies by product, and where it can be difficult (but not impossible) to determine a standard time for each product, it can be easy to dismiss lean. Handling methods will differ when products are heavy, large and of varying shapes and in many cases it can be difficult to move products between operations. Job shops tend to have frequent welding and grinding operations which lead to dirty work spaces, and it can be easy to amass large quantities of surplus material.
Despite these challenges, the lean implementation and presentation of Kavanagh Industries' operations were exemplary. Take for example the implementation of 5S, which can often suffer in made-to-order factories for reasons given above, and at times of workload peaks. The Smithfield facility was a well laid out lean job shop, allowing for safe and efficient work. Good use of shadow boards freed up space in work areas, cables and cords were kept in check, and as the saying goes, there was a place for everything and everything in its place.
In leading us through the facility, Aidan noted that production targets for the day are set each morning by operators (rather than by management), and the production control system allows for simple, visual communication to all of these targets and how well the team are tracking against them.
Worker morale and employee engagement appeared strong. The operators are multi-skilled, motivated to perform and their efforts are appreciated and rewarded appropriately. The room which hosted our group for the presentations following the tour, was filled with equipment that had been purchased with the well-being of employees in mind, including meditation chairs, fitness equipment, pool and table-tennis tables, and an adjacent massage room where each employee receives a massage each week courtesy of the company. Kavanagh Industries has been recognised as an employer of choice previously, and the Today Tonight feature on the company is well worth a look (followed by reflection as to what else could be done for those employed at your company). Love the closing comment.
At each turn throughout the tour, both at Kavanagh Industries and the adjacent KS Metal Fabrications, there were signs of enlightened management and the benefits that result in terms of productivity, quality, safety and importantly employee welfare.
A briefing on our recent lean study mission to Japan followed with presentations from tour participants Aidan Kavanagh, Managing Director of Kavanagh Industries, and Lee Baines, Manager Best Practice Unit of Enterprise Connect.
Ben Sparrow, Director and Lean Consultant of Shinka Management spoke about three standout companies that we have visited on our lean tours to Japan – Rinnai, Sekisui Heim and Suzaki Industries. Rinnai especially is a standout, and Ben has written about his experiences with the company previously (See: My New Lean Benchmark; The Taiichi Ohno Visit That Triggered Rinnai's Lean Excellence).
John Mills, Business Adviser, Australian Industry Group, also provided the group with a presentation regarding Enterprise Connect's funding and support offerings.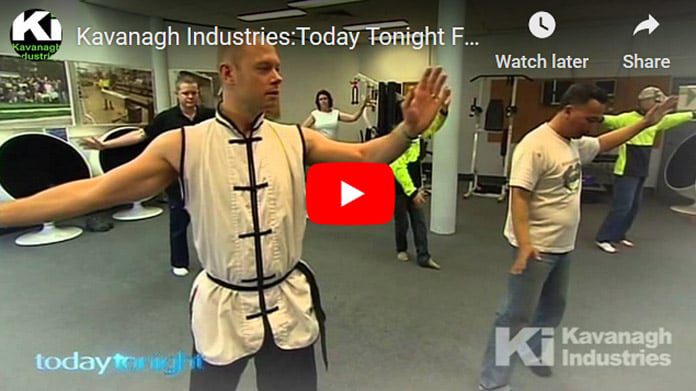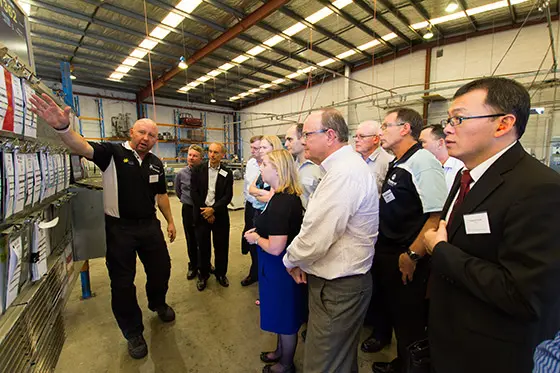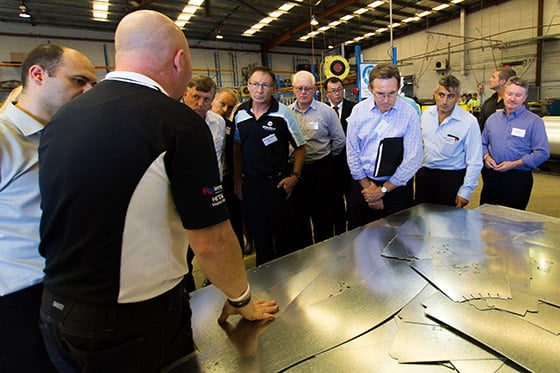 .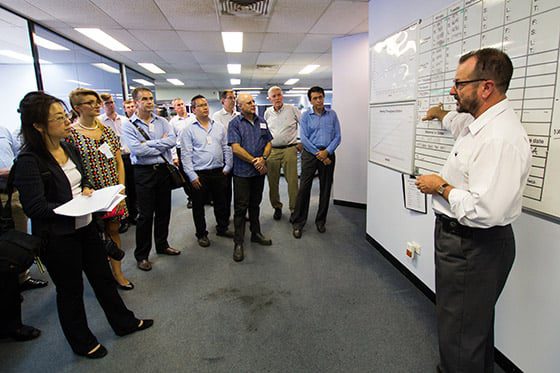 Thanks is extended to the presenters, and especially to Aidan and his team for hosting us.
If you are interested in learning of dates for future lean factory visits in Australia or Japan, we invite you to join our mailing list via the form below.