Kaizen Accelerator Program – Bahrain 2023
6-month Program with Lean Expert
In a first for Bahrain, your company has the opportunity to experience a kaizen improvement journey with one of the world's leading lean manufacturing consulting firms.
In collaboration with our partner EMIC, Shinka Management is excited to bring to Bahrain Juan Bertero, a lean consultant that covered Manufacturing Manager and Production Engineering Manager roles spanning over a decade with Toyota first-tier supplier DENSO and has over 20-years-experience deploying lean manufacturing within industry across multiple continents.
Over the course of six months, Juan will help your company develop its lean leadership capability whilst guiding you through an improvement implementation project specific to your operations. Participating companies will benefit from an initial three-day master class on lean fundamentals, on-site and online support, as well as sharing of learnings and outcomes with other participating companies.

Training Component
The program commences in March 2023 with a shared training event. Up to three participants from your company will be introduced to the fundamental thinking required for a leader within a lean manufacturing organisation. The three-day program will provide them with a genuine understanding of kaizen, lean manufacturing and the Toyota Production System, enabling them to implement and sustain a kaizen culture.
On-Site Implementation Support
Over the length of the program Shinka Management Senior Consultant Juan Bertero will spend four days supporting your company on-site with setting the direction, focus and target for your kaizen activity – and coaching you through a full cycle of improvement. Between on-site visits in Bahrain, an online progress meeting will be held with Juan to provide support and advice in keeping efforts on track to achieve your kaizen target.
Developing People
A key objective of kaizen is to develop people. This program will touch all levels of your company from top management to operator level. The employees you select to be the participants of the initial training will take part in a unique journey of insight and discovery never previously available in Bahrain.
Learning from Others
The program encourages your company to share your kaizen journey with up to four other participating companies within the same learning group. This culminates with a presentation event in August to share and celebrate your successes.

Location
Group Training Location:
Manama
Bahrian
Follow-up Coaching Location: Your on-site location
Schedule
Run over 6 months: March to August 2023
1 x Training for up to 3 employees
4 x One-day sessions with Juan Bertero
4 x Follow-up sessions with Juan Bertero

Report presentation event: August 2023
Program Cost
Contact Shinka Management Sr. Consultant Juan Bertero | juan.bertero@shinkamanagement.com
or contact us.
Funding:
Applicable for Tamkeen funding (eligibility criteria applies)
Program Delivery
The program is specially developed for the Bahrain industry and will be delivered by Shinka Management, a specialist in supporting global industry through the transfer of Japanese lean management know-how.
Juan Bertero Career Highlights
Management positions in Process Engineering, Process Development/NPI, and Production Engineering at Japanese automotive company DENSO, a first-tier supplier to Toyota
+15 years deploying the lean manufacturing and lean management across multiple industries
Lead trainer and people development in several countries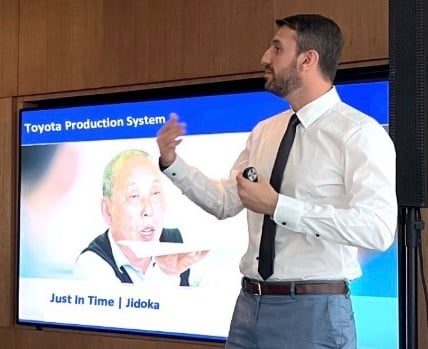 All COVID precautions will be taken to ensure a safe program.
For further information and to discuss your participation on the project please contact us, or to register to participate, please complete the form below.
Register your intention to participate in the Kaizen Accelerator Program