Your Lean Factory as a Showroom – Using Lean to Drive Sales
We have again had the pleasure of visiting one of our favourite companies in Japan – and one that clients on our regular Japan study mission continuously rate as a standout experience of their time in Japan.
As a lean factory, this company is an excellent example, and the benefits flowing from their lean culture in terms of safety, quality, productivity, shortened lead times and improvement in market share are impressive (more on this below!). However there is another angle to the company that is equally impressive and has a strong positive contribution to its sales – its formal strategy to hospitality and showcasing its factory.
The Isuzu Group – Metal One
The Isuzu Group is the steel service division of the Japanese multi-national giant Metal One, specializing in the processing and sales of cold rolled steel. The company has several regional service centres across Japan that process (typically slitting and cutting) steel coil of various grades and thicknesses for distribution to a range of industries, including automotive, that demand reliable and timely service.

Isuzu believes that coil distribution is old economy and that in order to remain profitable in this mature industry the company must focus on cutting costs by boosting business efficiency. To tackle this challenge, Isuzu has developed a very special culture focusing on staff development and continuous improvement – and the results show in the quality of their products and services, the morale of their young and vibrant workforce, and the market share held by their company.
Amongst the various programs the company has in place, its "factory as a showroom" vision is one that often flies under the radar, but in my opinion, is tremendously valuable and should be held up as an example for our clients to mimic. I'd like to highlight the value in this approach of leveraging a strong culture of continuous improvement and lean manufacturing to support corporate brand development and increase sales.
See below a video snapshot of the hospitality provided by Isuzu on a lean factory tour.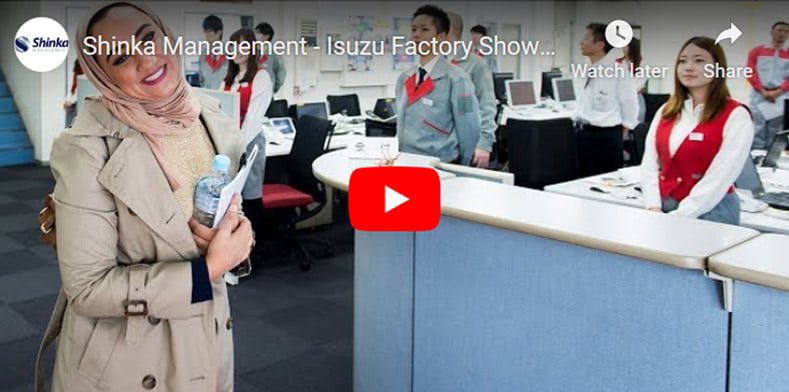 Factory Presentation – A Strong First Impression
Our first visit to an Isuzu Group service center with our clients was in 2014 following a fortunate introduction whilst implementing a lean manufacturing program at one of Metal One's off-shore processing facilities. The ex-pat Japanese CEO described Isuzu's service centers as a must see example of what an engaged workforce could achieve through continuous improvement. Even with these high expectations we were amazed by what we encountered on our first and every subsequent visit.
The presentation of the factory is the most obvious initial wow-factor for many of our clients. In comparing with the presentation (or lack there-of) of metal processing facilities in our own countries, the Isuzu Group service center was a standout for its clean, attractive and well-organized environment.
On closer inspection we could see the hallmarks of a thorough 5S program, something we discovered that they are extremely dedicated to – with a 5S Patrol and Safety Patrol carried out daily, with the responsibility for these audits shared across every member of their factory, office and logistics staff.

Safety and 5S audit report results shared with all staff at morning meeting by the staff members responsible for carrying out the patrols the previous day
With time we were noticing the depth to which their program was implemented. On one occasion, we noted that they had even run their 1S "sort" filter across the buttons on their machines and control panels, dividing buttons into "necessary" and "unnecessary" categories, and uninstalling and blanking out those that were not required. They explained to us the benefits that resulted from less buttons, dials and levers, in terms of easier training and less operational errors.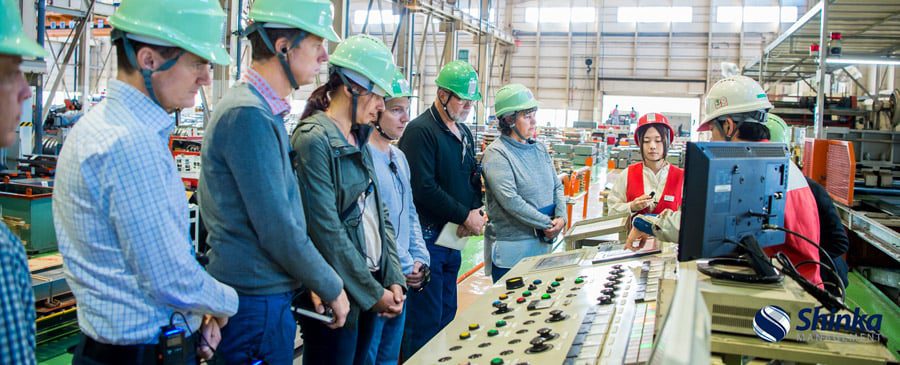 The results of a strong culture of lean manufacturing and continuous improvement have been well documented, in terms of safety, quality, productivity, staff morale, lead time, company profitability and sustainability, and other metrics. All of these factors are on show during our visits.
As we walk into the factory, we first pass the board tracking their safety record – a subtle reminder to staff each day of the need for safe work practices. Impressively, the service center we most often visit has achieved a record 2496 days straight (nearly 7 years) without a paper-cut level injury.
Part of the secret to this is the approach to safety training taken by the company. Recognizing the limited value in lecturing staff on safety in a meeting room, all safety training takes place on the shop floor with each staff member responsible for creating incident demonstrations that can be experienced by all employees. Rather than talk about the danger of a coil suddenly unraveling, metal sheets falling from a crane, a worker being crushed by moving equipment, etc., they choose to create these safety incidents, often with a hapless mannequin bearing the full force of the impact or incident.
The photo below shows our team experiencing the result a small, lightweight coil accidentally being nudged – a domino effect capable of crippling a worker. Feeling the impact of that last coil slamming into the ground, the importance of stacking and securing coils correctly immediately hit home.
Other experiments witnessed demonstrated lessons that are not immediately intuitive. For example, the value of a safety helmet's harness can easily be dismissed – however an impact to an up-turned terra cotta pot protected by a helmet fitted with and without a harness, quickly demonstrates how the impact resistant nature of a helmet is severely compromised in the latter case. These lessons, when experienced, stick – and the program has been so successful that Isuzu now regularly invites clients – those staff that handle and use their product, to join these training sessions together with Isuzu Group staff.
From a productivity perspective, the Isuzu Group has been benchmarked against rival companies in Japan, with findings showing that on a factory area basis, they are on average processing twice as much volume as their competitors with half the number of staff. In other words, their productivity on a per person basis is four times that of the remaining industry!
Quality KPIs are similarly impressive with an extremely low number of customer claims relating to order errors or damaged products. Efficient operations supported by a high level of standardized work and their enterprise resource planning system developed in-house, not only allowed them to achieve a high processing volume, but in conjunction with their internal logistics division, has enabled them to respond to urgent orders with a lead time of between 2 to 3 hours from receipt of order to dispatch to their customer, without compromising their day's production schedule.
What appeared to be high levels of inventory of finished product, not what you would expect from a lean factory, turned out to represent only 1.5 days of stock, a level which they continue to work on to bring down (on a recent visit we witnessed them tracking (on a daily basis – on a whiteboard for all staff to see) reductions in the volume of inventory held on their premises – a KPI that one of their staff was leading the charge on).
Behind a truly Lean Factory is an Empowered Workforce
A hallmark of a strong lean culture, and one of the aspects that differentiates the Toyota Production System apart from the historical approach to industrial engineering, is the approach to staff development. The Isuzu Group's approach is called Zenin Sankaku, or loosely translated, All-In Management. This fundamental philosophy is an approach that emphasizes the role that every staff member has in management and company improvement, and guides the company's approach to teamwork, information sharing, 5S, etiquette and manners, and a sense of ownership and autonomy in leading initiatives within the company. Their approach is quite the opposite to a command and control hierarchical workforce structure, and differs in feel to the approach taken by many other companies we visit in Japan, including what we experience on our Toyota tours.

Related to this philosophy is Isuzu's annual General Employee Meeting which brings together all 800 staff from across Japan. Younger members of the workforce act as moderators for the meeting, which is carried out without any formal script and draws on many different employees taking the stage to share their ideas, thoughts and projects. Being dynamic in nature, and morphing to meet the current needs and transformation aspirations of the group, the meeting is different year to year, with no-one knowing what kind of meeting they will experience until it actually starts. Although an internal event, typically more than 100 shareholders and customers choose to join each year to witness the meeting.
The results of this philosophy are evident in the vibrancy of the staff and effectiveness of the young workforce that are often called on to take leading roles in new initiatives and projects. It is this opportunity for development that makes The Isuzu Group an attractive choice for employment among the dwindling pool of young workers in Japan. All-In Management as a philosophy has been so successful that Isuzu has formalized the approach through a consulting and training program that it now provides to companies outside of the Metal One group.
The Visitor Experience – Hospitality as a Strategy
The Isuzu Group strives towards its goal of being a "Visionary Company," taking inspiration from Jim Collins and Jerry Porras' business classic Built to Last. Among the many programs that have been driven by their workforce in pursuit of this goal, is the concept of "Factory as a Showroom." In its most simplistic form this could be interpreted from the viewpoint of merely maintaining a well-presented, pleasing to the eye factory, however in Isuzu's case this is taken much further with the strategy including standardization and training for all of their staff in hospitality.
Nice touches include the greetings received from staff as we enter their work areas, coffee served immediately on arrival, name plates to help us with seating, explanations given by different team leaders at each stop within the factory and office, attentiveness of staff and clear preparation for our arrival, prepared explanations accompanied by explanation boards, right through to our hosts waving us farewell until we are out of sight.
Standardization and training extends to the bow given by operators to visitors on the shop floor.
Driving Sales through Showcasing your Factory
What we experience when visiting Isuzu as part of each Japan study tour was initially created to host visits by Isuzu's current and prospective clients. The sales team invites prospective clients to meet with them at the service centers. Rather than a laborious, chest-beating sales presentation, the sales representative takes a prospect through their factory, introducing factory staff and letting them and the presentation of the factory do the talking.
Japanese have a reputation of being particularly risk adverse, and are incredibly thorough when evaluating prospective suppliers. Is this company capable of consistent, high quality supply? Are they capable of achieving agreed lead-times? Are their operations appropriately managed and covered by standardized work? Do they take pride in their work? Will they let me down and my company down?
The answers to these questions cannot be found in a sales presentation, especially for a manufacturing culture that prides itself on genchi, genbutsu (essentially, going and seeing for yourself). Walking out of an Isuzu service center, one can't help but feel a desire to introduce this group as a trusted supplier for their company.
For existing clients, a factory visit is often followed by a stroll past Isuzu's visual Service Menu, which maps value-add services against those customers currently utilizing those offerings. This helps create conversations that leads to additional value-added services being considered by visitors.
A desire to create such an experience is not the driving force behind Isuzu's culture of manufacturing excellence, but instead is an outcome that is being utilized to build the group's reputation and drive sales. Recognizing the value of this experience, Isuzu has formalized a strategy for showcasing their operations, which has culminated in their "Factory as a Showroom" program.
This program has been so successful that in recent years they have harnessed staff (freed up from operations over the years through productivity improvements and automation) to consult to businesses outside their group, both domestically and internationally, to develop similar programs for their organization (if this is of interest, let us know and we'll put you in touch).
Preparing your Lean Factory Showroom Experience
So, do you currently showcase your factory environment to clients? Are your operations at a high enough level that you can confidently invite prospective customers to walk the shop floor at any time? Are your people at every level and function within your organization confident and capable of interacting with visitors, dressed appropriately and well-versed in explaining their work content? Do you have a formal strategy in place for hosting visitors, or is this carried out in an ad-hoc manner?
For both B2B and B2C companies, harnessing your factory as a showroom presents an enormous opportunity to build your company brand, develop stronger relationships with clients and support the business development team in driving sales.
Paul Smith is a Director of Shinka Management, a lean training and consulting firm with clients in over 60 countries. Paul completed his engineering studies with a masters and PhD from Kyoto University, and has been mentored in lean management by some of Japan's most notable lean practitioners including former Toyota factory managers.
Paul runs lean training courses with Shinka Management and is a regular leader of the Shinka Management Lean Japan Tour.