Lean Leadership Master Class | Onsite Lean Training | Adelaide
South Australian companies have the opportunity to learn from one of the world's leading lean manufacturing practitioners and trainers. Join Shinka Management and our very own veteran TPS expert and kaizen leader, Akinori Hyodo who has built a 40 year career as a kaizen sensei fostering the Toyota Production System within Toyota, its supply-chain, and more recently within non-automotive companies.
Date: 29 Nov 2021 - 30 Nov 2021
Time: 8:30 am - 4:00 pm | Timezone: Australia/Adelaide
Training Location: Axiom Precision Manufacturing
13-19 Johansson Road, Wingfield, SA 5013
Capacity: Maximum 9 participants
Pricing: AUD 1,295 (excluding GST)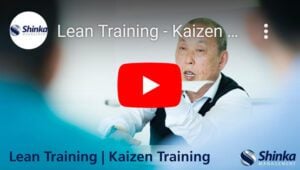 The master class will be led by Shinka Management Director Ben Sparrow and senior consultant John Thomas with a former Toyota factory manager and kaizen leader, Hyodo Sensei joining us live from Japan.
Our generous host for this 2-day on-site Lean Leadership Master Class is Mr Jim Grose, Managing Director of Axiom Precision Manufacturing. A light lunch and refreshments will be provided to the participants on both days. This master class will also include a brief business presentation and operations tour of the Axiom facility.
Who is this for?
This master class is designed for Managing Directors and Operations/Production/Continuous Improvement/Quality Managers interested in fostering a culture of continuous improvement within their organisation. You will learn first-hand about how process improvement is achieved within Japan's leading companies, and more importantly, how to implement these practices within your operations.
Particularly relevant sectors include manufacturing, food and beverage, defence, wholesale & retail trade, and transport.
Topics Covered
This two-day master class will focus on the application of lean principles and the Toyota Production System (TPS) to sectors outside of automotive. The course will go beyond theory to discuss how lean thinking can be implemented and sustained within a company.
Day One
TPS principles
Developing human assets
Role of top management
Factory visit and diagnosis
Day Two
Factory visit review
5S and visual management
Standardized work creation
Continuous improvement culture
The course will also include an overview of the operations at the Toyota HiAce factory in Japan, as well as a site tour at Axiom Precision Manufacturing.
Hyodo Sensei
Akinori Hyodo is a long-time leader in Toyota Production System training and former factory manager at the Toyota factory in Japan responsible for the manufacture of the HiAce vehicle. Now retired as a factory manager, Hyodo Sensei heads the Toyota Dojo (kaizen training arm) of that Toyota factory providing lean training courses for companies in Toyota's supply chain and Toyota factory tours, and hosts the training component of the Shinka Management Lean Japan Tour.
Career highlights include:
Factory Manager Toyota Parts Factory
Factory Manager at Toyota Assembly Plant
13 year member of All-Toyota Kaizen Promotion Team
27 years leading TPS at No.1 quality ranked Toyota factory
Consulting globally serving a wide range of industries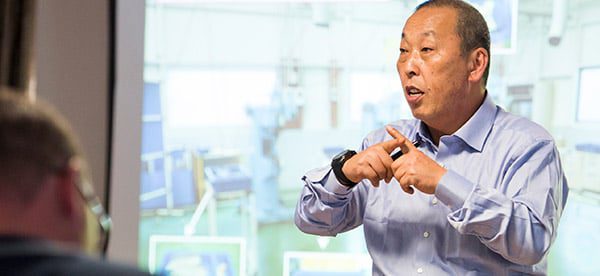 Axiom Precision Manufacturing

Established in 1979, Axiom Precision Manufacturing specialises in advanced manufacturing for a vast variety of purposes and applications. This family owned South Australian company serves national and international markets in several diverse industries; namely defence, aerospace, medical devices, aftermarket automotive, electronic hardware,mining and rail.
Two purpose-built manufacturing facilities in Adelaide, South Australia, deliver precision machined components, tooling and injection moulded components. The high quality assembly department and precision inspection services allow Axiom Precision Manufacturing to provide assemblies and sub-assemblies to the exacting standards required by customers.
What our lean training participants have said…
Please register to attend via the registration form. One of our team will follow up to confirm details and to provide an invoice.
Inquiries to John Thomas, Senior Consultant, Shinka Management at john.thomas<at>shinkamanagement.com