Japanese Business Etiquette Training | Online | Europe-MENA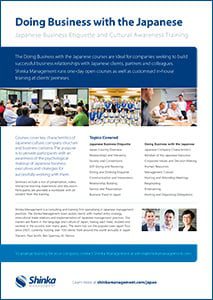 Is Japan a market of interest for you? Do you have an interested partner in Japan? Has your organisation been purchased by a Japanese investor?
The Doing Business with the Japanese course is ideal for companies seeking to build successful business relationships with Japanese clients, partners and colleagues.
Delivered over two online sessions, this interactive and engaging seminar is an opportunity to learn about Japanese business culture and etiquette and how you can develop strategies in working with the Japanese to achieve successful business outcomes.
This training program will help you avoid the pitfalls and commonly-made mistakes by people both new and experienced in dealing with Japan. It will cover the fundamentals of Japanese business etiquette and culture to remove those uncomfortable moments of cross-cultural business and provide you with strategies to maximize the value of your business interactions.
To learn more about what is included, download the Japanese Business Etiquette training flyer or visit our overview page about Doing Business with the Japanese.
Regional Training Dates
The following three training programs are scheduled to provide participation options during business hours in different time zones.
Europe/MENA | 23 – 24 May 2022 [Event details below]
Asia-Pacific | 22-23 June 2022 [Event details: Japanese Business Etiquette Training | Asia-Pacific]
Americas | 29-30 June 2022 [Event details: Japanese Business Etiquette Training | Americas]
Date: 23 May 2022 - 24 May 2022
Time: 9:00 am - 12:00 pm | Timezone: Europe/London
Location: Online
Global: Berlin 10:00 | Bucharest 11:00 | Istanbul 11:00 | Dubai 12:00 | Sydney 18:00
View time in your timezone here and add to calendar
Format: Two 3-hour online sessions held over two consecutive days
Presenter: Paul Smith | Director, Shinka Management
Pricing: USD 395 per person
Pricing is exclusive of any applicable withholding or goods and services taxes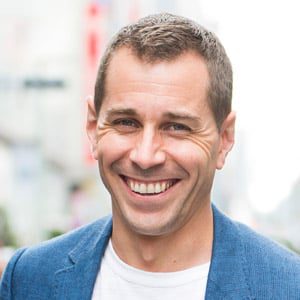 Session 1 | Japanese Etiquette Fundamentals
Japan Country Overview
Japan's School and University System
Relationships and Hierarchy
Society and Conventions
Gift Giving and Receiving
Japanese Dining and Drinking Etiquette
Service Culture
Session 2 | Doing Business with the Japanese
Japanese Company Characteristics
Mindset of the Japanese Executive
Corporate Values and Decision-Making
Management Culture
Hosting and Attending Meetings
Negotiating
Communication and Interpreters
What our Japanese Business Etiquette training participants have said…
One of our team will follow up to confirm details and to provide an invoice.
Inquiries to Eri Dennis, Consultant, Shinka Management at eri.dennis<at>shinkamanagement.com