Ai Group 2012 Lean Tour to Japan – Shinka Management
The Australian Industry Group 2012 Lean Japan Tour will visit Tokyo and Nagoya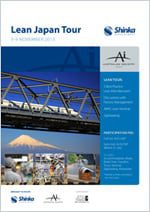 This year's Ai Group Lean Japan Tour will be held on Sunday 4th through Saturday 10th of November. The lean study tour will include a JMAC Lean Seminar and visits to four companies for discussions with factory management.
For this year's itinerary, further details and registration, download the Lean Japan Tour registration form or learn more by visiting our lean tours page.
Contact us to express your interest in our lean tours.
Early-bird registration closes September 14th.
Sunday: Arrive Tokyo Narita
• Tokyo sightseeing
• Evening briefing and dinner
Monday: JMA Consultants Briefing
• Lean implementation in Japan
• Latest manufacturing trends
Tuesday: Nagoya – Site Visits & Training
• Hi-Ace weld & assembly plant visit
• Pressed component plant visit
Wednesday: Nagoya – Site Visits & Training
• Seat track plant visit
• Practical applications of TPS
Thursday: Nagoya – Site Visits
• Toyota site and museum tour
• Rinnai visit
Friday: Nagoya – Site Visit & Debriefing
• Chuo Malleable Iron
• Kirin Brewery
• Review Session
Saturday: Tokyo – Recovery
• Tokyo Sightseeing (Akasaka and Akihabara)
• Departure from Narita Airport