Lean Japan Tour – November 2016 – Shinka Management Kaizen Tour
The November 2016 Lean Japan Tour will visit Tokyo and Nagoya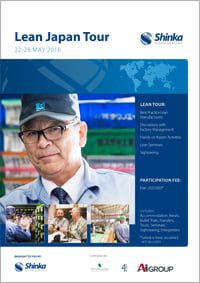 The November 2016 Lean Japan Tour will be held on Sunday 13th through Saturday 19th of November, and will include kaizen seminars, practical lean training and visits to factories for meetings with senior management.
For further details of the tour and to read about past visits see our kaizen tour page.
Contact us to express your interest in participating or download the registration form to sign up now.
The November 2016 tour is targeted at English-speaking professionals from across the globe.

Lean Tour Itinerary (subject to change)
Sunday: Arrive Tokyo
• Tokyo sightseeing / free time
• Japanese business etiquette seminar & orientation
Monday: Nagoya – Site Visits & Training
• Lean implementation in Japan
• Gifu Auto Body 1st tier supplier visit
Tuesday: Nagoya – Site Visits & Training
• TPS and standard work analysis seminar
• Pressed components factory visit
Wednesday: Nagoya – Site Visits & Training
• Toyota Body Seiko plant visit
• Hands-on kaizen training activities
Thursday: Nagoya – Site Visits
• Metal One Isuzu visit
• Rinnai plant tour
Friday: Nagoya – Site Visit & Debriefing
• Brother Industries plant tour
• Time study and work sampling seminar
Saturday: Tokyo – Recovery and Sightseeing
• Tokyo Sightseeing
• Departure from Narita Airport
Click below to view the November 2015 tour video…