Japanese Etiquette Training – Doing Business with the Japanese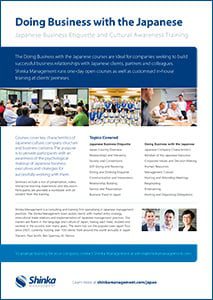 Is Japan a market of interest for you? Do you have an interested partner in Japan? Has your organisation been purchased by a Japanese investor?
The Doing Business with the Japanese course is ideal for companies seeking to build successful business relationships with Japanese clients, partners and colleagues.
This one-day interactive and engaging seminar is an opportunity to learn about Japanese culture and etiquette and how you can develop strategies in working with the Japanese to achieve successful business outcomes.
This Japanese etiquette training seminar will help you avoid the pitfalls and commonly made mistakes by people both new and experienced in dealing with Japan. It will cover the fundamentals of Japanese business etiquette and culture to remove those uncomfortable moments of cross-cultural business so that you can focus on maximising the value of your business interactions.
Date: 22 September 2017 | 9:30 – 16:00
Location: Shinka Management, Level 1 Greenhill Rd, Wayville, South Australia
Registration Fee: $495 (excluding GST)
To learn more about what is included, download the Japanese Business Etiquette training flyer or visit our overview page about Doing Business with the Japanese.
Registrations
Please complete the registration form below. One of our team will follow up with a confirmation and an invoice for registration. For questions or initial registrations of interest, please contact us.