Book Review – Zero Quality Control – Shigeo Shingo
Shigeo Shingo is an icon with the early development of SMED (Single Minute Exchange of Die) and Poke-yoke (mistake-proofing), and a key developer of the Toyota Production System. Shingo urged his audiences to call themselves Improvement Engineers and, called himself Dr. Improvements. He used to say, "My medicine works but only if the patient takes it."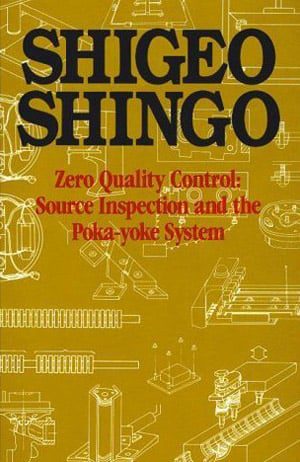 This book by Shingo refers to three critical and interrelated aspects of quality control.
Zero QC is the ideal production system – one that does not manufacture any defects. To achieve this, two things are necessary:
Poke-yoke (mistake proofing) looks at the defect and stops the production, and gives immediate feedback to help find the root cause of the defect.
Source Inspection looks at errors before they become defects.
Using Poke-yoke devices and Source Inspection systems can virtually eliminate the need for statistical quality control. A word of caution though; although this looks simplistic, you will need to read the book slowly to allow the logical thinking of Shingo's ideas to deeply penetrate.
The book provides a detailed explanation of Shingo's "three critical aspects of quality control" and it also presents many actual examples that show a wide range of applications.
I consider this book a "Must Read" if you are going to have true success with Lean Manufacturing.
Zero Quality Control – Source Inspection and the Poka-yoke System
Shigeo Shingo
Productivity Press ISBN 0-915299-070
Original Japanese version 1985 (Furyo = 0 e no chosen)
English translation 1986 by Productivity Press
Other books by Shigeo Shingo that are well worth having in your library include "A Revolution in Manufacturing: The SMED System" and "Non-Stock Production: The Shingo System for Continuous Improvement."
Peter Gardner, now retired, was a Senior Lean Consultant with Shinka Management focusing on business profit improvement utilizing lean manufacturing practices. Peter has been involved in leading lean manufacturing programs for the past three decades. In his previous role as Global Manufacturing Engineering Director at TI Automotive, Peter had responsibility for manufacturing operations at 80 factories.
Shinka Management provides lean consulting, lean training and Japan study mission week-long training courses which include Toyota factory tours and visits to several plants in the Toyota supply chain to learn about the application of TPS.