Lean Leadership Master Class | Lean Leadership Training
Delivery: On-site, Online | Format: 2 days (on-site) or 3 sessions (online) | Suited to: Middle to Senior Management
Embrace the opportunity through Shinka Management's Lean Leadership Master Class training program to learn from one of the world's leading lean manufacturing practitioners and trainers. As a Toyota factory manager and kaizen leader, Hyodo Sensei has built a 40 year career as a lean manufacturing sensei fostering the Toyota Production System within Toyota, its supply-chain, and more recently within non-automotive companies.
Our lean leadership training programs are designed for middle and senior managers, lean consultants and lean practitioners who are interested in fostering a culture of continuous improvement within their organization.
The master class will be led by lean sensei Akinori Hyodo, a former factory manager and director at the Toyota factory in Japan responsible for the manufacture of the HiAce vehicle. Hyodo Sensei shares his experience leading the Toyota Production System and teaches participants the tools, mindset and leadership practices required to implement and sustain a culture of continuous improvement. This kaizen training program is typically run as a two-day on-site course including a facility tour and analysis at a local company, or through three shorter sessions when run online, including a video-based factory tour.
Hyodo Sensei career highlights include:
Factory Manager Toyota Parts Factory
Factory Manager at Toyota Assembly Plant
13-year member and leader of All-Toyota Kaizen Promotion Team
27 years leading TPS Development within the No.1 ranked Toyota factory for quality
Consulted globally with a wide range of non-automotive companies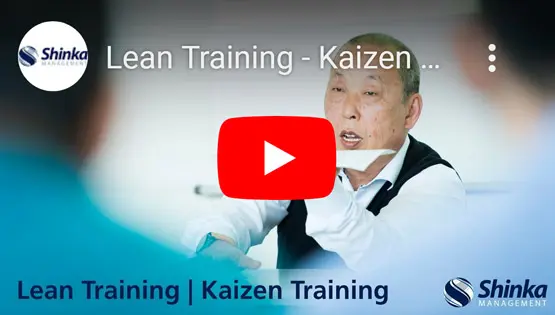 TPS Principles
Role of top management
Developing human assets
Facility tour and diagnosis
5S and visual management
Standard work creation
Continuous improvement culture
Process improvement exercise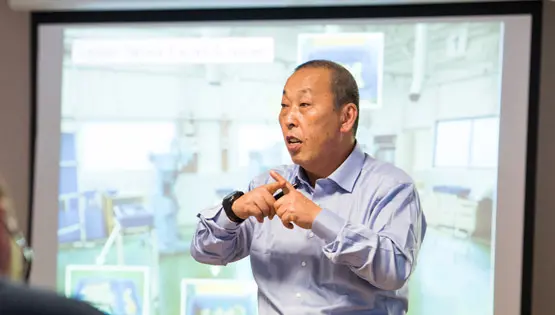 Key Takeaways
The lean leadership training program covers key topics of lean manufacturing with a focus on the philosophy, principles and tools of the Toyota Production System with many examples of how process improvement is achieved within Japan's leading companies. The course will go beyond theory to discuss how lean thinking can be implemented and sustained within a company.
By participating in this master class you will:
Understand the core philosophy, principles and tools of the Toyota Production System and the benefits of a lean culture
Learn how to implement lean practices within your operations
Learn how to lead a lean transformation and to foster and sustain a culture of continuous improvement within your organization
Upcoming Lean Leadership Training and Kaizen Development Programs
For information and registration regarding a scheduled lean training program, please view the individual event page from the list of kaizen training events below. A general overview of our training offerings can be found on our lean training page. Details of our lean webinar events can also be found on our #AskSensei page.
All Shinka Management training programs can be run as on-site and online programs for individual companies. Please contact us via the form below to inquire about training options for your organization.
Contact us about a tailored lean training program
Speak to us about structuring a lean development program to meet your organization's needs
Lean Leadership Master Class Topics – What's Covered
TPS Principles
Key topics of lean manufacturing are covered with a particular focus on the philosophy and principles of the Toyota Production System, which provides you with a solid basis for developing a lean mindset and implementation.
Role of Top Management
Roles of different levels of an organization are discussed and important elements of lean leadership mindset are defined for participants to develop as a leader capable of leading a lean transformation and fostering a culture of kaizen or continuous improvement within their organization.
Developing Human Assets
The human resources are the most important assets of an organization and recognizing the importance of human resource development is vital to any businesses that wishes to improve and grow. The training covers how Toyota develops problem-solving capability within its people.
Facility Tour and Diagnosis
A wealth of practical experience from Japanese and global lean benchmark companies is shared through photo and video-based case studies.When the program is run as a two-day on-site course, a facility tour and analysis at a local company is also included.
5S and Visual Management
5S and visual management can become powerful management tools in your workplace. Specific ideas and strategies of these effective lean tools are explained to assist in strengthening your organization's foundations for continuous improvement. Implementation examples are shared from best-practice Japanese and global organizations.
Standard Work Creation
Standard work is considered one of the key foundations for all kaizen and lean management activities in Japan, allowing operations to be quantified, managed and improved. Learn how standard work is defined in Japanese lean manufacturing best-practice companies such as Toyota and develop your ability to analyze and create standard work within your own operations.
Continuous Improvement Culture
Participants will learn first-hand about how process improvement is achieved within Japan's leading companies and how lean thinking and continuous improvement culture can be sustained within a company.
Process Improvement Exercise
Participants will participate in a process improvement exercise to apply their lean thinking in a practical context and implement effective improvement solutions to a component manufacturing process using specific lean tools such as standard work charts.