Kyushu Alumni Tour – September 2019
Return to Japan to experience an all-new program for Lean Japan Tour Alumni only
In September 2019, Shinka Management invite our past participants of the Lean Japan Tour to the beautiful southern island of Kyushu. A completely new selection of company visits has been arranged in the prefectures of Fukuoka and Oita.
Also joining us for this special event will be Akinori Hyodo, the former manager of the Toyota HiAce plant. He will lead seminars and plant visit discussions throughout the week.
The tour will be held on Sunday 22nd September through Saturday 28th September, and will include kaizen seminars and visits to factories for meetings with senior management.
The tour coincides with the Rugby World Cup. A great opportunity to also take in the atmosphere of the event's host country.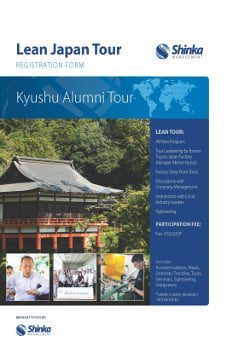 For further details of the tour and to read about past visits see our kaizen tour page.
Contact us to express your interest in participating.
The September 2019 tour is open to all past participants of the Lean Japan Tour.
Example Itinerary (subject to change)
Learn more about our Lean Japan Tour
The Lean Japan Tour is Shinka Management's flagship lean professional development program. For further detail about our lean Japan tours, see the Lean Japan Tour page, or read more about past participants' Lean Mission Testimonials.
What our tour participants have said…
Contact us about a Lean Japan Tour
Speak to us about our tours.