Date/Time

Date(s) – 22/09/2019 – 28/09/2019
All Day
Location

Toyota Motor Kyushu
Category(ies)
Return to Japan to experience an all-new program for Lean Japan Tour Alumni only.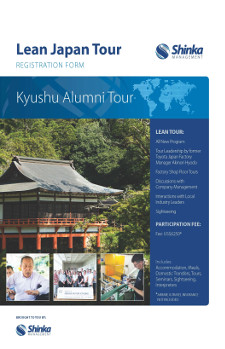 In September 2019, Shinka Management invite our past participants of the Lean Japan Tour to the beautiful southern island of Kyushu. A completely new selection of company visits has been arranged in the prefectures of Fukuoka and Oita.
Also joining us for this special event will be Akinori Hyodo, the former manager of the Toyota HiAce plant. He will lead seminars and plant visit discussions throughout the week.
The tour will be held on Sunday 22nd September through Saturday 28th September, and will include kaizen seminars and visits to factories for meetings with senior management.
The tour coincides with the Rugby World Cup. A great opportunity to also take in the atmosphere of the event's host country.
For further details of the tour and to read about past visits see our kaizen tour page.
Contact us to express your interest in participating or download the registration form to sign up now.
The September 2019 tour is open to all past participants of the Lean Japan Tour.

Lean Tour Itinerary (subject to change)
Sunday: Arrive Fukuoka
• Fukuoka free time
• Orientation & Seminar with former Toyota factory manager
Monday: Fukuoka – Site Visits & Training
• Seminar with former Toyota factory manager
• Toyota Motor Kyushu factory visit
Tuesday: Fukuoka – Site Visits & Training
• Nissan Motor Kyushu factory visit
• Daihatsu Kyushu factory visit
Wednesday: Oita- Site Visits & Training
• Fundokin miso factory visit
• Fundokin salad dressing factory visit
Thursday: Oita – Site Visits
• Omron Taiyo factory visit
• Toto factory visit
Friday: Oita – Site Visits & Debriefing
• Nippon Steel & Sumitomo Metal factory visit
• Oita City Government
Saturday: Oita – Recovery and Sightseeing
• Oita sightseeing
• Departure from Fukuoka Airport
Click below to view the July 2016 tour video…